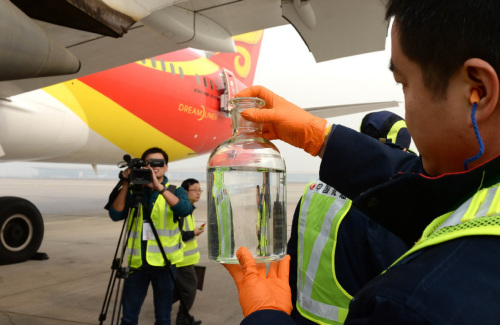 Hainan Airlines' ground staff display a biofuel that is used in aviation, in Beijing on Nov. 22, 2017. (Photo/Xinhua)
China's push to further expand production and consumption of bioethanol this year in order to clean up the environment, while seeking more channels to consume corn and grain stockpiles, has created a huge biofuel market that is tempting global chemical companies.
Clariant, a Swiss chemicals company, does not want to miss out.
The chemical company is seeking Chinese partners to commercialize its technology named Sunliquid that converts agricultural residues such as cereal straw, into cellulosic ethanol for vehicles, a form of renewable energy that can be produced from crops such as corn and potatoes.
The company's interest in the Chinese market comes at a time when China is enhancing efforts to clean up the choking air, replacing fossil fuels with renewable energy.
In September, the National Development and Reform Commission and the National Energy Administration decided to increase use of bioethanol gasoline by 2020, and to build a facility that will produce 50,000 tons of cellulosic ethanol a year.
The State Administration of Grain said recently China will expand production and consumption of bioethanol fuel this year, coinciding with the country's decision to gradually phase out production and sales of fossil fuel cars to cut emissions and to reduce pollution and dependency on fossil fuels.
The administration said it would further accelerate the use of grain stockpiles this year and reform grain storage mechanisms to make them more market-oriented.
According to Han Jun, chief of the Office of the Central Rural Work Leading Group, China, currently the world's third-largest bioethanol producer that uses nearly 2.6 million tons a year, could see its annual capacity of bioethanol reach 10 million tons, which would require about 30 million tons of corn, if the plan were to be successfully carried out.
Data from the National Bureau of Statistics showed about 618 million tons of grain were produced in 2017, the second-highest output in history.
The technology can contribute to China's plans to use a bioethanol-gasoline nationwide by 2020, said Markus Rarbach, head of biofuels and derivatives at Clariant.
"Given China's huge population and growing economy, our Sunliquid technology can play a key role in helping the country make that important fuel switch," Rarbach said.
With the Sunliquid technology, the cellulosic ethanol yield is increased by around 50 percent compared to conventional process by efficiently converting both cellulosic and hemicellulosic components from agricultural residues into ethanol, said the company.
As the energy required for the entire process is generated from the residue instead of fossil-based sources, the technology could reduce greenhouse gas emissions by about 95 percent compared with fossil fuels, according to Clariant.