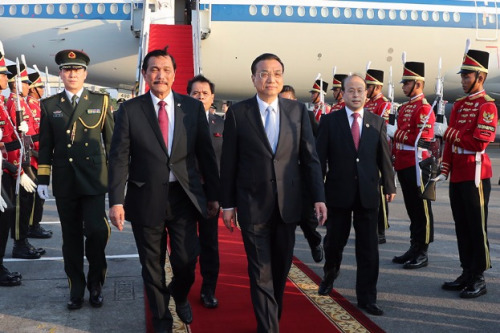 Premier Li Keqiang arrived in Jakarta on Sunday to start his six-day trip to Indonesia and Japan. (Photo/Xinhua)
Premier Li Keqiang arrived in Jakarta on Sunday to start his six-day trip to Indonesia and Japan, which is part of China's efforts to promote regional cooperation in East Asia against the backdrop of rising protectionism.
In Jakarta, Li will have talks with Indonesian President Joko Widodo; and Lim Jock Hoi, secretary-general of the Association of Southeast Asian Nations. A number of proposals are expected to be made for promoting China-Indonesia cooperation under the Belt and Road Initiative.
"My visit is to consolidate political trust, deepen mutually beneficial cooperation and enhance friendship with Indonesia," the premier said on his arrival at Soekarno-Hatta International Airport.
China would like to work with ASEAN countries, including Indonesia, to promote ties and regional peace, stability and development, he said.
This year marks the fifth anniversary of the China-Indonesia comprehensive strategic partnership. Trade between the two hit $63.3 billion in 2017, a year-on-year increase of 18.3 percent, said Chinese Ambassador to Jakarta Xiao Qian. Chinese invested $3.4 billion in the ASEAN country last year, up by 30 percent, he said.
In a signed article published by the Jakarta Post on Saturday, the premier said China will work with Indonesia to further enhance complementary relationships between their development strategies and support Indonesia in building regional economic corridors and upgrading its infrastructure.
Li also said China is ready to work with Indonesia to advance regional integration and strengthen coordination at the United Nations and other organizations.
Vice-Foreign Minister Kong Xuanyou said on Friday that Indonesia is a major emerging developing country and a vital partner for China. Widodo visited China five times and met with President Xi Jinping six times, he said. China is Indonesia's largest trading partner and both countries are pushing forward projects such as the Jakarta-Bandung high-speed railway, he said.
A number of agreements will be signed to further cooperate in areas such as strategy alignment, e-commerce and agriculture.
This year also marks the 15th anniversary of the China-ASEAN strategic partnership. "During my stay in Jakarta, I will visit the ASEAN Secretariat to underscore China's commitment to its relations with ASEAN. ... China has been a staunch supporter of ASEAN's community building and ASEAN centrality in East Asian cooperation," Li said in the article.
Li also said China is eager to work with ASEAN to uphold the multilateral trading system, promote trade liberalization and investment facilitation. China would like an early conclusion of negotiations on the Regional Comprehensive Economic Partnership and establish an East Asia economic community.