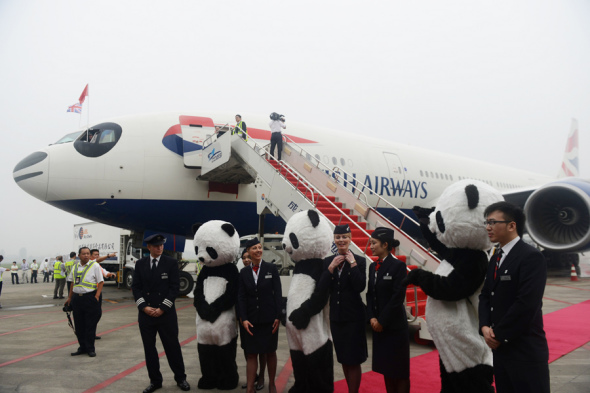 This file photograph shows a British Airways plane emblazoned with panda-like black-and-white features, after it landed at the Chengdu Shuangliu International Airport. Its crew received a warm welcome from local staff dressed as panda mascots. (Photo provided to China Daily)
British Airways, retailers keen to exploit sharp rise in mainland tourists to the isles
British airlines and retailers are finding Chinese business partners to make the most of increasing number of Chinese tourists visiting the United Kingdom.
The number of Chinese visitors to the UK has soared by over 150 percent in the five years since 2012. In 2017 alone, the UK received more than 500,000 visitors, a record.
New West End Company, representing over 600 retail, restaurant, hotel and property owners across London's West End shopping district, commissioned Pricewaterhouse-Coopers to conduct a survey of the latest status of visitor arrivals in London.
The PwC survey revealed a 27 percent year-on-year growth in Chinese visitors to London last year.
So, British Airways or BA, which already operates 17 weekly flights to Beijing and Shanghai from the UK, will develop its networks further in China, its top executive said.
"We'll continue to develop the existing traffic and continue to work with local partners to identify as quickly as possible ways to develop the Chinese market network," said Alex Cruz, BA chairman and CEO.
Part of International Airlines Group or IAG, BA already has code-share ticketing arrangements with China Sothern Airlines and China Eastern Airlines. BA is also eager to engage with startups to bring more innovative and smart travel services to Chinese customers.
"There is a tremendous amount of innovation being created in China at the moment. We're engaging with other Chinese groups of startups to understand how to develop customer propositions better," Cruz told China Daily.
For its part, IAG is mulling how to integrate Alipay and WeChat Pay into its payment systems so that its subsidiaries can accept mobile-based e-payments.
To meet future demand, BA is investing 4.5 billion pounds ($6.4 billion) over the next five years on improving aircraft facilities. It is also investing 600 million pounds in its Club World business class to lure more high-end customers.
Chinese visitors' spending in the UK contributes to the growth of not only the local aviation industry but the retail sector.
According to Global Blue, a global tax-free shopping information service provider, Chinese tourists' spending in London surged 32 percent last year compared to the 5-percent growth in the eurozone in the same period as Chinese travelers took advantage of a weakened British pound.
Premier Tax Free, a tourist tax-free refund service provider, said Chinese shoppers were expected to spend nearly 40 million pounds in the London West End's shopping area in the Spring Festival holiday period this year, representing a yearly growth of 14 percent. Actural data is awaited.