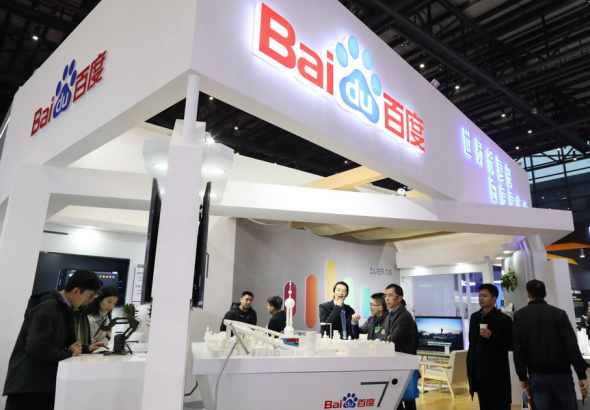 People visit the Baidu exhibition stand at the Light of the Internet Expo in Wuzhen, Zhejiang province. (Photo provided to China Daily)
In 2017, after 11 years of study in the United States, a period topped by a master's in computer science from Harvard University, Tang Yuhan, 26, decided to return to homeland China.
He said he was more than satisfied to join an artificial intelligence or AI startup in Beijing. AI, he said, helped realize his dream of being "a surfer riding the waves of China's new era".
"I already missed the chance to see how the internet reshaped the country in the past decades. I don't want to miss this," he said. "It's a technology that will be seen in every aspect of life in the future."
AI appeared in this year's Government Work Report for a second time. The report said China would strengthen research and applications of AI in fields like medical care, education, culture and sports.
Globally, too, AI is making waves, and creating a dire need for skilled professionals. There are only about 300,000 globally, while the demand is for more than 1 million AI professionals, according to a report released by the Tencent Research Institute and online recruitment platform Boss Zhipin in December.
Demand rose more than five times from 2015 to 2017 since a mass of companies began to enter this field, the report said.
According to local media reports that quoted government officials, China alone needs more than 5 million workers with AI skills in the future, to support the booming industry.
Tang, the Harvard graduate, said when he was searching for jobs last year, almost all big names of corporate China had sought to make campus placements, including Baidu Inc, which launched a new round of overseas recruitment from March to April, the golden months for job hunting.
It plans to search for talent in nine top universities in the US, to fill positions related to machine learning, data mining and computer vision algorithms, according to the company's recruitment advertisement.
However, according to Tang, though more than 70 percent of his classmates chose AI-related companies, only 10 percent came to China.
"Competition among AI companies has turned to a scramble for talent," said Liu Wanqian, CEO and founder of PlusAI, a startup specializing in autonomous driving. It boasts a road test license in California.
Liu said the company needs 50 to 100 new AI personnel every year, to take up jobs involving examination of driving conditions and development of automatic braking.
"Solid educational background in basic AI-related subjects, including mathematics, computer programming and statistics is a necessity," he said.
Liu did not share details about the salaries of his AI specialists, but said they are roughly 20 to 50 percent higher than that of traditional technicians.
According to recruitment website Zhaopin, Meituan Waimai, a food delivery firm, offers 20,000 yuan ($3,164) to 25,000 yuan per month to AI product managers.
For similar positions, Baidu provides a monthly salary ranging from 20,000 yuan to 30,000 yuan, according to Zhaopin.
Du Lan, senior vice-president of iFlytek Co Ltd, an AI company in China, said it trains former technicians to become new AI professionals.
About 48 percent of its 9,000 employees are researchers in fields such as intelligent voice recognition, machine learning and natural language understanding.
"Like water and electricity, AI will enter every industry and family in the future," she said. "China has already taken a leading role in many innovations of this technology."
In order to meet the growing demand, Du said an educational system is required covering primary schools to vocational schools and universities.