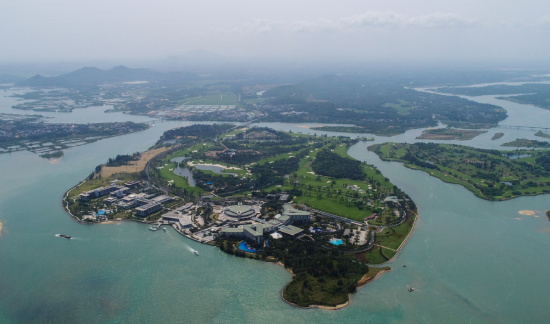 An aerial view shows Boao, South China's Hainan province, on March 25, 2018. (Photo/Xinhua)
Hainan province will host eight Hainan-themed events during the upcoming Boao Forum for Asia annual conference to be held April 8-11, to help serve the country's general diplomacy, enhance development of the Belt and Road Initiative and seek opportunities for Hainan to make exchanges with the outside world , Wang Sheng, director of the Foreign Affairs Office of Hainan, said on Monday.
At the 21st Century Maritime Silk Road and Island Economy Cooperation sub-forum, a report on development of islands in 2017 will be released and participants will discuss issues related to the opening up and management of island economies.
Cruise tourism will be a main topic for the ASEAN-China governors' and mayors' dialogue, which will be attended by governors from countries and regions participating in the Maritime Silk Route, including the Philippines, Croatia, Cambodia and China, and business executives from international cruise enterprises.
"We will discuss issues on the operation of international cruise routes, involving coordination of various sectors, including infrastructure construction, development of policies and regulations, training of service and sales personnel and relaxation of cruise visa policies ", said Wang.
He said a joint initiative on the alliance of cruise tourism cities along the Maritime Silk Road will likely be made to better promote the regional cruise industry.
"The dialogue, which has been held at Boao for four years, has born fruit from cooperation and exchanges between the government and people of China and ASEAN countries," Wang said .
Events such as the Belt & Road Initiative: Healthcare Industries, Roundtable of Overseas Chinese CEOs Dialogue with think tanks, a breakfast meeting by Hainan provincial government, Hainan and Asian universities' dialogue and a commercial promotion meeting are also on the agenda.
Visits have also been arranged for the forum participants to learn about Hainan's achievements made in the past 30 years and help them have a better understanding and knowledge of Hainan, which marks its 30th anniversary as a province—the newest—on April 13.
Wang said that the annual forum will help improve Hainan's economic development and its construction of the tropical province as an international tourism destination. It will help involve Hainan more closely with Belt and Road Initiative and better serve China's overall diplomacy.