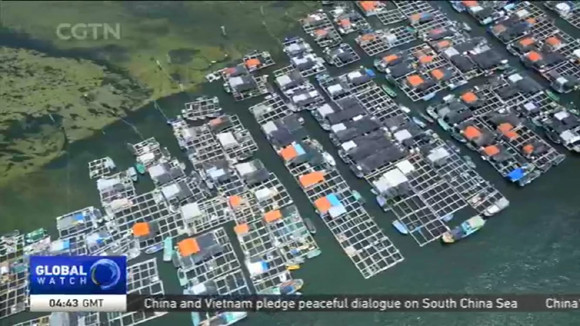 Bird's eye view of Hainan's aquaculture area, which accounts for over 1/6 of its waters. (Photo/CGTN)
With nearly two million square kilometers of territorial waters, Hainan Province has vast sea dominion. A marine industry alliance has been established this year to better explore its marine resources. Over the past 30 years, Hainan's marine economy has witnessed progress, but investments are still falling short.
Figures show Hainan's aquaculture area is 300,000 kilometers, accounting for more than one sixth of its waters. The marine economy has expanded from less than 6 percent of its GDP to nearly 30 percent over the past 30 years, when Hainan officially became a province of China.
Chief among them, drugs from natural marine products are part of Hainan's developing marine economy -- one particular example is pearl powder. Best known as ornaments, pearls are also ingredients in Chinese medicine, which are used as an anti-inflammatory agent. The local government is stepping up efforts in supporting the industry.
"Sales of health care products, especially those containing pearl powder, have been increasing rapidly recently. I believe we will see more development in this field in the years to come," said Li Caiguang, General Manager of Hainan GN Pearl Biotechnology. "The government has been providing financial support -- last year we got some investment from the local government, which will be beneficial to our research on pearl-related products."
However, experts say development of the island's marine industry is actually lagging behind, despite current efforts.
"Hainan has wide marine dominion, but to be honest this province is not strong in its marine production. The landscape of its marine industry is not as large as we think -- we don't have many entities on the island actually. Marine biotechnology is a new strategic industry, which has a high demand for talent and technology, but Hainan is still weak in its innovation and technology cultivation," Zheng Shipu, the Secretary General of Hainan Marine Industry Alliance.
Zheng added that the industry has not developed as fast as expected, and investments are needed to cultivate more talents and technologies to make it one of its tropical island's economic pillars.
The local government has promised to grow the marine economy to 200 billion yuan, about 32 billion U.S. dollars, by 2020.