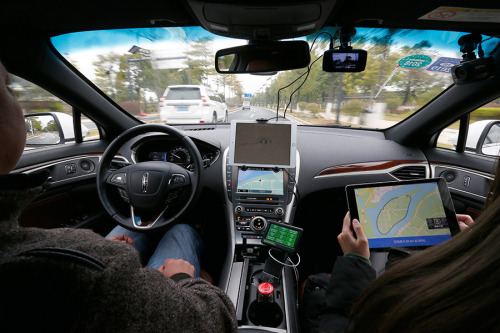 Two people in Guangzhou, Guangdong Province, test an autonomous car on Jan. 31. (Photo: FU TIAN/CHINA NEWS SERVICE)
Road death via Uber vehicle causes companies to rethink their testing strategy
Everybody knows, clearly or vaguely, that someday our cars will drive us around autonomously, but their time of arrival has been a heated topic. While the optimistic argue such cars are only three to five years away, many others insist it may take 10 years for them to become a reality.
The conservative estimate seems to be gaining an upper hand after an autonomous Uber car killed a woman in the United States last month when she walked her bicycle across the street. It was the first fatal crash involving a self-driving car being tested.
Uber soon suspended its tests of autonomous cars and Japanese automaker Toyota followed suit by halting such testing on public roads in the U.S. Tests in enclosed grounds continue. Many other tech companies and automakers, including General Motors and Ford, have so far not been disturbed by the accident.
Yet the accident has raised the concerns that the current technology may have many problems to solve, although it is agreed that in the long run autonomous cars will be safer because, unlike people, cars will not grow tired or distracted.
"There is no doubt that ultimately autonomous cars will do a better job than us," said Cui Dongshu, secretary-general of the China Passenger Car Association.
"But this accident sounds a timely warning that currently we cannot put all our faith in the technology, and we still need a lot more work to improve and test it."
In China, internet search giant Baidu has probably the most aggressive campaign regarding autonomous driving. It established its intelligent driving unit in late 2015 and unveiled its Apollo last year, an open platform that is said to help its partners develop their own autonomous driving systems.
According to Baidu, the platform has attracted many Chinese and international partners, including BYD, Ford, Microsoft and Daimler, the parent company of Mercedes-Benz.
Apollo is expected to fully support all four major computing platforms: NVIDIA, Intel, NXP and Renesas this year.
Days before the Uber accident, Baidu Chairman and CEO Robin Li said fully autonomous vehicles on truly open roads are only three to five years away.
That is a lot sooner than predicted by Miao Wei, minister of industry and information technology, who said it would only be reality in eight to 10 years and explained that safety should be a top priority.
"I am more optimistic and believe that we might achieve that goal ahead of schedule," Li said.
His remarks came one month after a fleet of more than 100 vehicles with Baidu's Apollo system drove themselves across the Hong Kong-Zhuhai-Macao Bridge as one of the opening episodes in this year's CCTV Spring Festival Gala, offering an audience of 1.1 billion a glimpse of its technology.
The vehicles included sedans from BYD, buses from King Long as well as road sweepers and logistics cars from Beijing Idriverplus Technology.
With the help of the Apollo system, King Long is scheduled to mass produce autonomous buses that run in designated areas as early as July.
JAC Motors and BAIC Group will each roll out Level 3 self-driving cars featuring the Apollo system in 2019, with Chery Automobile following in 2020.
According to the Society of Automotive Engineers, Level 3 cars can manage most aspects of driving, including monitoring the environment, but the driver must be available to take over at any time.
Some carmakers are pushing forward their own autonomous vehicle campaigns. Among others, SAIC Motor inked a deal with Intel earlier this year to develop software for self-driving cars. BYD is working on self-driving technologies itself, as well as in cooperation with Baidu.
Yet Zhu Jun, general manager of Shanghai E-propulsion Auto Technology Co, an SAIC Motor subsidiary, does not expect affordable cars with "real autonomy" to drive into daily life within 10 years because of technological issues and costs.
"By real autonomy, I mean at least cars at Level 4 or above," said Zhu.
According to the Society of Automotive Engineers, a Level 4 vehicle can drive itself almost without any human interaction, and a Level 5 vehicle can drive itself without human interaction on any road.