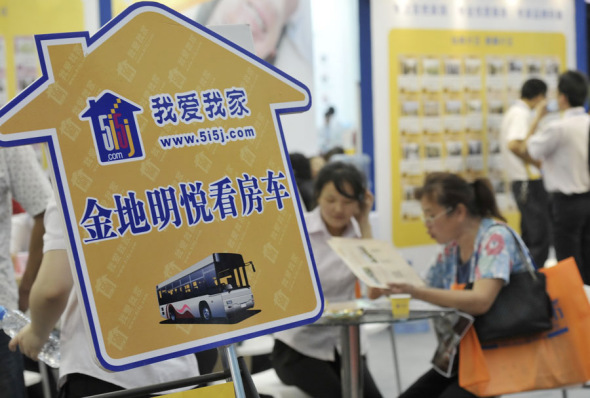 Customers check housing projects at a real estate exhibition in Nanjing, Jiangsu province. (Photo provided to China Daily)
Banks, internet giants, property developers eye growth from long-term leasing
Real estate developers, finance institutions and internet giants are stepping into China's booming long-term rental market as demand surges, business insiders said.
With the market volume expected to increase to 5 trillion yuan ($797 billion) by 2030, the projected growth has attracted a number of players from outside the real estate industry, according to Beijing-based 5i5j Group, one of the country's major real estate intermediary agencies.
"As of the end of 2017, 60 percent of the top 30 property developers in China have entered the long-term rental market," said Xie Yong, CEO of the group. "Finance institutions and internet companies are all passionate about the market."
According to Xie, the traditional banking industry is in urgent need of new growth points as it faces challenges from internet companies promoting mobile payments, while third-party financial platforms also need to expand their businesses - such as offering rent installment plans.
Since 2017, the country has seen a number of significant financing activities in the long-term rental market involving property developers, banks and internet companies.
Late last year, the Bank of Communications announced 150 billion yuan of loans to 26 property developers including Vanke, Greenland and Country Garden for long-term rental property development, marking the bank's ambition to enter the booming business.
Also in 2017, China CITIC Bank agreed to lend 30 billion yuan to Country Garden for its long-term rental apartment business.
"Internet companies such as Alibaba, JD and Tencent also entered the market in 2017 and the presence of internet giants will bring revolutionary changes to the business," Xie said.
Earlier this year, Ziroom, a Chinese online apartment rental platform, secured 4 billion yuan of investment in its first round of financing, the largest investment sum in the field so far, with major investors including Warburg Pincus and Tencent.
"We will make use of our alliances with other financial technology companies such as Zhima Credit, a unit of Alibaba's subsidiary Ant Financial, to gauge the creditworthiness of our future tenants," said Xiong Lin, chief executive officer of Ziroom.
Cheng Zhanglun, partner of Warburg Pincus, said more than 70 percent of new first-tier city residents will choose to rent a home.
According to 5i5j's research, in 2017, 1.2 trillion-yuan worth of deals were made in the country's rental market. Now 194 million people live in rented accommodation, accounting for 13.9 percent of the population. By 2025, the market volume will grow to 3 trillion yuan with the number of tenants reaching 252 million.
"The long-term rental market will usher in new development in 2018 as the country will continue to support it by issuing favorable policies," said a report on the Chinese rental market in February, released by the China Index Academy, one of the country's largest independent property research organizations. "It will also help the relative companies to grow and push the market forward."
On Monday, Kunming Sinobright Group Co, parent company of 5i5j Group signed a strategic cooperation agreement with Haier, the country's leading home appliances manufacturer, marking the latest move in the country's heated long-term rental market.
The two sides plan to work together on the sales and rentals of smart home appliances and financial services related to long-term rentals. They also aim to develop an operation system to combine the smart home appliances within apartments.
Such cooperation aims to improve the experiences of tenants in the era of the internet of things.
5i5j's business covers 15 major cities in China including Beijing, Shanghai, Tianjin, Hangzhou, Zhejiang province, and Nanjing, Jiangsu province, with more than 3,300 branches.
Xiangyu, the property asset management service provider owned by 5i5j, administers more than 530,000 rooms in over 14 cities in China, with tenants exceeding 5 million.