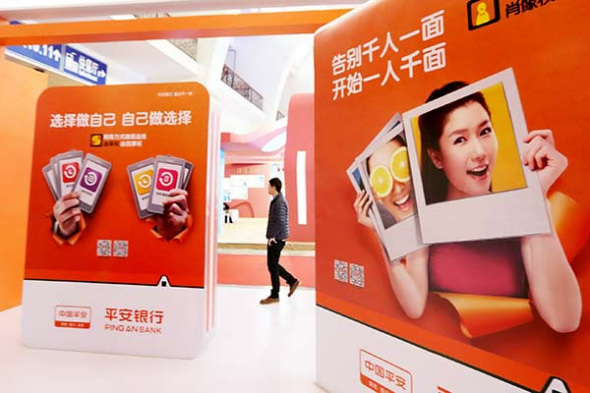 A visitor walks past a booth of Ping An Insurance at an international financial exhibition held in Beijing. (Photo by Lei Kesi/for China Dail)
Ping An Insurance, the largest insurer by market value in the Chinese mainland and second-largest life insurer in terms of premiums, is planning to invest 100 billion yuan ($15.8 billion) into financial technology in the next 10 years.
"Over the past 10 years, Ping An has continued to invest 1 percent of its annual revenue into financial technology. This translated into a total investment of 50 billion yuan and was not included in our regular research and development investment," Jessica Tan, chief operating officer and chief information officer of Ping An Insurance, said in Hong Kong on Wednesday. "For 2017 alone, such an investment amounted to 7 billion yuan."
The Shenzhen-based company booked a forecast-beating net profit of 89.09 billion yuan for the year ended December, representing a growth of 42.8 percent year-on-year.
Riding high on bumper earnings, the insurer decided to pay a final dividend of 1 yuan per share on top of an interim dividend of 0.5 yuan per share, doubling the full-year dividend of 0.75 yuan per share in 2016.
The financial and healthcare technology sector attracted global attention after the conglomerate spun off four of its units in the two sectors for a combined valuation of $40 billion. The two sectors were the third largest profit contributor last year for Ping An, after its traditional life and healthcare insurance business.
The Chinese mainland's advance from credit cards to digital payment, from landline phone network to 4G is a clear testament to the sheer power of technology, said Alex Ren, president of Ping An.
"Financial conglomerates should lose no time to jump on the technology bandwagon in their quest for the next growth engine," said Ren.
Good Doctor, also known as Ping An Healthcare and Technology-the country's largest healthcare and online medical platform, posted a net profit of 10.8 billion yuan in 2017, sending the total profit of the financial and healthcare technology sector to 14.6 billion yuan.
Good Doctor's last funding round of $400 million gave the spinoff a valuation of $5.4 billion. Health Connect is valued at $8.8 billion and One-Connect at $7.4 billion.
Ping An's online wealth management platform, Lufax Holdings, became profitable for the first time in 2017 and is planning a Hong Kong listing this year that could value the spinoff at about $60 billion.
Good Doctor won IPO approval from the Hong Kong stock exchange in January and is poised to become the conglomerate's first Hong Kong-listed fintech spinoff. But the insurer refused to unveil the listing timetable for Lufax, Health Connect and OneConnect.
Shares of Ping An opened 3.5 percent higher in Shanghai but remained flat at 73.8 yuan on Wednesday. In Hong Kong, the company's shares fell to close 3.2 percent lower at HK$88.3 ($11.3) after opening 3.5 percent higher.
The flagship Shanghai Composite Index remained flat at 3,280.95 points on Wednesday, while the benchmark Hang Seng Index in Hong Kong edged down 0.43 percent to finish at 31,414.52 points.