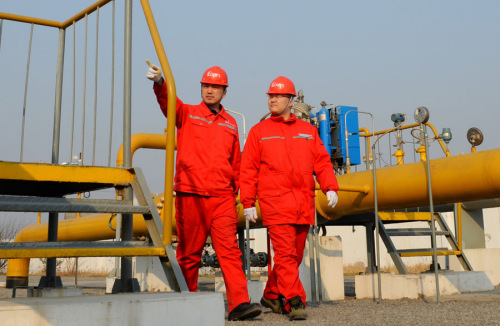 Two employees of Sinopec walk past a gas pipeline of the company in Puyang, Henan Province. (Photo by Hu Qingming/For China Daily)
Meeting China's rising demand for natural gas, especially in the heating season, could prove to be challenging due to limited domestic output, slow pipeline imports and distribution network bottlenecks. However, experts believe a natural gas shortage is unlikely this coming winter as higher liquefied natural gas imports will help bridge the supply demand gap.
"China won't surprise the world again during this year's winter season despite its higher natural gas demand, as significant restocking activity by major LNG imports will help alleviate the gas shortages in northern China," said Marc Howson, senior managing analyst of LNG at S&P Global Platts.
"Even though domestic output and pipeline imports are unable to keep up with gas consumption growth, LNG will help bridge the supply-demand gap, especially in the highly populated coastal regions, which are largely removed from gas fields and import pipelines," he said.
China's LNG consumption jumped 47 percent from 25.7 million metric tons in 2016 to 37.8 million tons in 2017, surpassing South Korea as the world's second largest LNG importer, and becoming the largest contributor of global consumption growth.
According to the U.S. Energy Information Administration, driven by government policies designed to reduce air pollution, natural gas consumption in China will continue to increase, while LNG demand in China is set to nearly double to 68 million tons per year by 2030 and its share of global LNG demand is expected to converge with that of Japan, the world's biggest consumer, by 2030, according to analysis of S&P Global Platts.
According to Howson, China's exposure to the international LNG spot market has increased substantially over the past year, as State-owned importers have replaced contracted volumes with cheaper spot deliveries.
China's growing reliance on spot purchase means importers will play an increasing role in balancing the global LNG markets and moving international prices, he said.
Many major oil and gas companies are eyeing the opportunity and gearing up to meet growth in LNG trucking in the country.
Houston-based Cheniere Energy and China National Petroleum Corp, the country's biggest oil producer, in February signed two long-term contracts for LNG from Sabine Pass and a new LNG facility under construction near Corpus Christi, a port city in Texas along the Gulf of Mexico.
CNPC has also vowed to raise its total working capacity of natural gas storage to 15 billion cubic meters by 2025, able to meet 10 percent of the peak seasonal demand.
The LNG terminal of China Petroleum & Chemical Corp, China's largest oil refiner, located in Tianjin, has started accepting LNG in February, a move expected to remarkably ease gas shortages in North China.
The first phase of the terminal can handle 3 million tons of LNG and produce 4 billion cu m of natural gas per year, supplying gas to Beijing, Hebei, Tianjin and Shandong.
Together with another LNG terminal run by oil giant China National Offshore Oil Corp, the first phase of the two terminals can handle 5.2 million tons of LNG each year.
China's 17 LNG terminals received shipments at an unprecedented rate last year, with some of the facilities operating well above nameplate capacity as the winter chill set in.