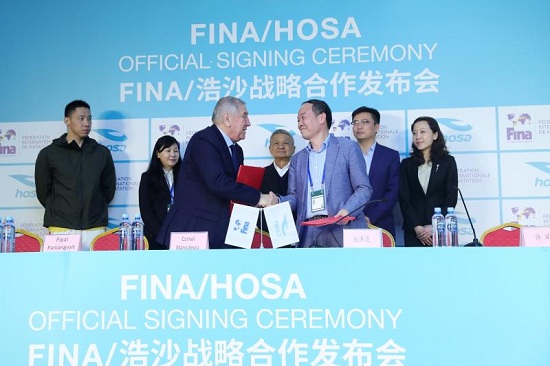 FINA Executive Director Mr Cornel Marculescu and HOSA Chairman Mr Shi Hongliu shake hands at the ceremony held at the Water Cube Press Conference Room in Beijing on March 9, 2018. (Photo provided to chinadaily.com.cn)
FINA and HOSA announced on March 9 the renewal of the existing partnership in place for both the FINA/CNSG Diving World Series 2018 and for the newly renamed FINA/HOSA Marathon Swim World Series 2018.
HOSA remains the Diving World Series sponsor and the Marathon Swim World Series Title sponsor. This collaboration in place since 2015 has proven to be very successful for both the promotion of diving and open water worldwide and HOSA's corporate brand image as FINA assures great support to HOSA's global development.
HOSA wishes to continue increasing the brand awareness and impact via FINA platforms and secure its No.1 position among China's swimwear companies.
At the signing ceremony held at the Water Cube Press Conference Room (2008 Olympic Games swimming venue) in Beijing on March 9 in conjunction with the Diving World Series and just days before the first meet of the Marathon World Series in Doha (Saturday, March 17), FINA Executive Director Cornel Marculescu said: "FINA is very pleased to renew with HOSA, a trustworthy and prestigious partner since 2015, until 2021 the partnership, which has tremendously improved the quality and the reach of the most important diving and open water annual showcases after the FINA World Championships. HOSA's support is important to achieve a successful strategy for those two events."
Also speaking at the signing ceremony was HOSA Chairman Shi Hongliu: "We are honored to be a partner of the Marathon Swim World Series with FINA since 2015 and now we are even more excited to work closer with FINA for both the Marathon Swim World Series and the Diving World Series. We will continue our international strategy with FINA and provide more efforts on promoting aquatic sports in the world. We will try hard to train more young talents, venue building, competition management. We will make it our priority to make aquatic sports stronger and more popular."