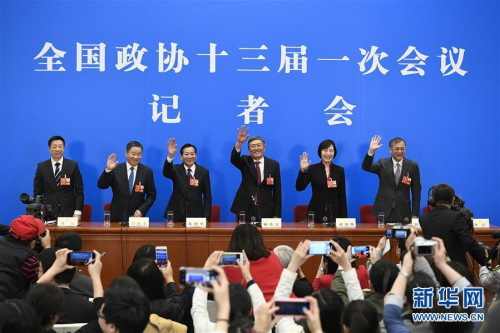 Yang Weimin (third right), a member of the 13th National Committee of the Chinese People's Political Consultative Conference, and Qian Yingyi (first right), a CPPCC National Committee member, greet the media at a news conference on economic development in Beijing, March 8, 2018. (Photo/Xinhua)
China will push high-quality economic growth this year and will have greater tolerance for slower growth rate, members of the country's top political advisory body said on Thursday. [Special coverage]
Yang Weimin, deputy head of the Office of the Central Leading Group on Financial and Economic Affairs, said that slower growth is a natural process for a country that has experienced rapid economic expansion and there is no need to panic about slight rise or drop in the GDP growth rate.
China will continue to foster stable growth, push supply-side reform, resolve major financial risks, properly deal with local government debt and promote a healthy development of the property market, Yang, who is also a member of the 13th National Committee of the Chinese People's Political Consultative Conference, said at a news conference.
In the Government Work Report, China set its economic growth target at around 6.5 percent this year, which is 0.4 percentage point lower than the growth rate of last year. Several provincial governments have also lowered their growth targets for this year.
"It is a significant change and an important signal as it shows the country's shift from fast growth to high-quality growth," said Qian Yingyi, dean of School of Economics and Management of Tsinghua University and a CPPCC National Committee member.
Qian said that the 6.5 percent growth target reflected the strategic shift of China's economic policies and it will create greater room for the country's economic transition.