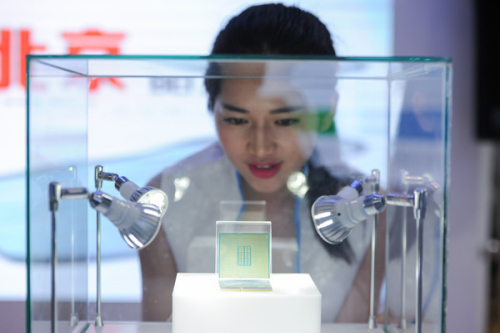 A visitor looks at a chip made by Guizhou Huaxintong Semiconductor Technology Co at a big data exhibition in Guiyang, capital of Guizhou Province. (Photo/China News Service)
Guizhou Huaxintong Semiconductor Technology Co, a joint venture between U.S. chip major Qualcomm and the Guizhou provincial government, is planning to roll out server chips for China by the end of this year, said a top company executive.
The announcement marks the firm's next big move close to its ambitious goal to be at the forefront in the uphill battle and gain the momentum in the rapidly expanding Chinese server market.
Huaxintong's first-generation server chip will be built using the advanced chip manufacturing process of 10 nanometers and expected to achieve the international mid-and high-level standards of performance, said Ouyang Wu, chairman of Guizhou Huaxintong.
The team has not only absorbed the licensed technologies from Qualcomm, but also worked out the customized encryption algorithm according to the country's security standards, according to Ouyang, who is a deputy to the 13th National People's Congress. [Special coverage]
"Our goal is to be able to design and develop the server chips that meet the market's demand independently in the next three to five years," Ouyang noted.
The company has a development and research center in Beijing for chip design, a facility in Shanghai for chip testing, and a base in Guizhou province for system testing.
Ouyang added that in the digital information age, integrated circuit and high-end server chips play key roles in technological upgrading and economic growth. He said the joint venture will help China move forward in establishing a locally sourced data center infrastructure that the country demands.
"With the aim to be a future leader in advanced technologies, China needs to keep an open mind to advanced technologies from abroad as well as learn to be an innovator in the future. And the major challenge will be how to attract top global talent," he said.
Currently, Qualcomm owns a 45 percent stake in Huaxintong, while 55 percent is held by the Guizhou provincial government.
The establishment of the joint venture is seen as part of the mobile chipmaker's broader efforts to ramp up efforts to compete with its arch rival Intel in the data center market. It also marks Qualcomm's move to adjust strategies to compete and attain larger market shares in the country over the long-term.
Meng Pu, chairman of Qualcomm China, said in a recent interview with China Electronics News that Qualcomm had a rosy view of both Huaxintong and China's data center server chip market's development.