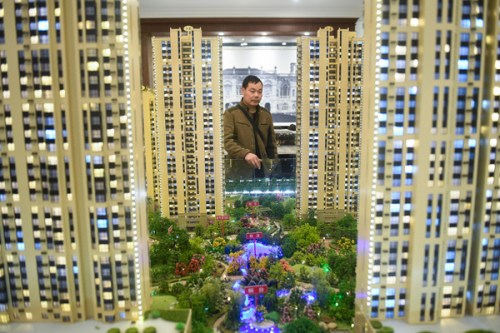 A prospective homebuyer looks at the model of a residential project at a property sales office in Taiyuan, Shanxi Province. (Photo/Xinhua)
For more than a decade, property tax has been regarded by speculative investors as a Pandora's box-once levied, it could lead to many unforeseen situations, pushing home prices this way or that. Or so they believed. [Special coverage]
However, industry insiders said property tax is merely a policy to help preserve the sanctity and function of home as a dwelling unit and prevent housing from becoming a tool for out-and-out speculative investments.
In a bylined article published in People's Daily on Dec 20, Finance Minister Xiao Jie wrote about the need for a legislative process to introduce gradually a real estate tax, and also establish a thorough modern real estate taxation system later.
Xiao's article sparked market speculation that real estate tax is nigh. Shanghai-based The Paper.cn reported that the issue of whether or not this year's National People's Congress meeting would deliberate the draft for property tax legislation is attracting a lot of market attention.
For, the legislation can kick off only after deliberations by the NPC. The annual two sessions that started on Saturday and will end later this month, may provide more information, according to media reports that quoted Jia Kang, former head of the Finance Ministry's research department, as saying.
The property tax will be collected at the regional tax, giving local governments the right to determine the tax rate and related measures, Liu Shijin, former deputy head of the State Council's Development Research Center and also member of the 13th National Committee of the Chinese People's Political Consultative Conference (CPPCC), was quoted as saying by the Securities Times.
Fiscal and tax reforms are expected to emerge as buzzwords during this year's two sessions, or the annual meetings of the NPC and the National Committee of the CPPCC.
Tax reforms will likely be accelerated this year at both national and local levels. A unified taxation law will help facilitate China's economic growth, said Huang Jianhui, head of the research department of China Minsheng Bank, in an interview to the China Securities Journal.
Zhou Jing, head of project sales, JLL Shanghai, a property consultancy, said, "Since the first batch of macro control policies on China's property market was launched in 2006, the possibility of a fresh property tax has arisen again and again every time home prices needed cooling down."
In January 2011, Shanghai and Chongqing became the only two cities to levy property tax. However, the property tax trial yielded meager results.
In Shanghai, the tax is collected only from families whose housing area is more than 60 square meters per person. It is taxed at a rate of 0.4 percent or 0.6 percent of the total property price annually, depending on the apartment's price per sq m.
In Chongqing, the trial tax is focused more on taming investment speculation in high-end properties, with the rate set between 0.5 percent and 1.2 percent of the property price annually.
Like other Chinese cities, the two cities' real estate prices have continued to rise in the past seven years.
"Owing to the low rate for taxation, 100 million yuan ($15.8 million) to 200 million yuan tax collected can hardly cover the taxation regime's operational expenses," said Lu Wenxi, a researcher from property consultancy Centaline Shanghai.
"The tax on property needs to be prudent as it is closely connected with people's daily life," said Yan Yuejin, research director at the E-House China R&D Institute.
Yan said people who live in their properties need not worry that the anticipated tax will affect their lives. From a long-term perspective, real estate tax will help regulate the housing market better, preventing speculative investments, he said.