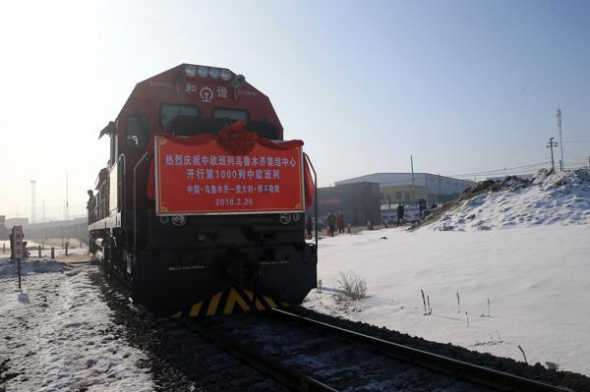 The first China-EU cargo train from Urumqi to Naples, Italy, departs at 11:30 am on Feb 26, 2018. (Photo by Li Deyong/for China Daily)
A train carrying local tomato sauce products left Urumqi, Northwest China's Xinjiang Uygur autonomous region, for Naples, Italy, on Monday.
The products are expected to arrive at the destination in 25 days via train and ferries, cutting the travel time by half from that via ocean shipping.
The China-Europe rail operation from Xinjiang to Naples will pass through Kazakhstan, Azerbaijan and Georgia, and over the Caspian, Black and Mediterranean seas before wrapping up the 10,500-km journey in Italy.
This is the 1,000th train to make the journey to Europe since the first China-EU cargo train service leaving from Urumqi was launched on May 26, 2016.
Over nearly two years' development, the number of train departures from Urumqi to Europe has grown from once a day in 2016 to three times a day in the first two months of this year, and cargo train services have covered 24 cities in 17 countries in Central Asia and Europe.
As many as 200 kinds of commodities — ranging from daily necessities and garments to machinery equipment, plumbing materials, and electronic accessories — were shipped to European destinations thanks to the rail service.
It is expected that a total of 1,400 cargo trains from Xinjiang to Europe will make the trip this year, according to the railway authority in the Xinjiang Uygur autonomous region.