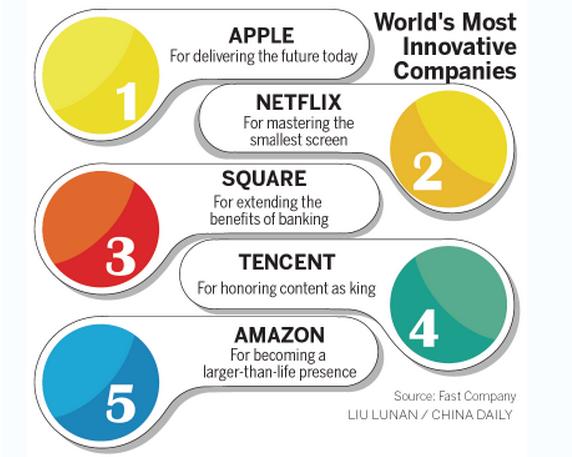 World's Most Innovative Companies. (Photo by Liu Lunan/China Daily)
Tencent Holdings Ltd has reached the top five in an annual global listing that tracks companies' performance in business innovation due to the importance it attaches to content.
The Shenzhen-based tech giant was ranked No 4 for how its nearly 1-billion users could generate the colossal content being built around its WeChat app, according to the World's 50 Most Innovative Companies for 2018 released on Tuesday by Fast Company, a New York-based media agency.
Tencent's decisions to spin off its digital reading arm, sign pacts with global music labels, and develop gaming-related franchises have gained traction among industry observers, who liken such scenario with Apple's hypothetical purchase into "Disney and Spotify".
The ranking, entering into its 11th year, also saw three other Chinese firms as first-time honorees, including news aggregator operator Beijing Bytedance Technology Co Ltd, online education provider VIPKid, and drone-maker DJI.
Using algorithms to nose out news offerings helped Bytedance earn the 16th spot, putting it on a par with Elon Musk's iconic aerospace manufacturer SpaceX and digital-transforming retail chain Walmart.
Apple took the top spot for releasing a host of exciting products from AirPods to iPhone X, maintaining its staying power in an era of rapid change. Notably, it was also the only company to have earned a place every year on the list since its inception in 2008.
The other members of the top five were Netflix, Square and Amazon.
Tencent was the only Chinese company on both this year and last year's ranking. Tech majors including Alibaba Group Holding Ltd, Xiaomi Corp, Huawei Technologies Co Ltd and property developer Dalian Wanda Group Co Ltd all made to the top 20 of the 2017 list.