The 2018 International Youth Leadership Finance Summit is held in Shanghai. (Photo provided to Ecns.cn)
Kuai Niu Group, one of the leading providers of financial technology solution, partnered with an international conference, pinning hopes to leverage joint efforts to create drastic changes in traditional financial services.
Executives of the Shanghai-based company were invited to the 2018 International Youth Leadership Finance Summit in Shanghai, organized by Shanghai Advanced Institute of Finance (SAIF) Master of Finance (MF) Program.
Chen Jiayue, head of Kuai Niu's risk management and modeling team, was asked to judge fintech competitions held during the four-day summit.
The event took place as financial services, buoyed by several key factors, face sweeping technological changes that profoundly influence their business model.
After several rounds of intense competition, 130 outstanding undergraduates from 25 top-class universities and colleges across the world like Tsinghua University, Peking University and London School of Economics and Political Science, were shortlisted in the final.
The final competition fixed on four topics – "Rotation Strategy within the Banking Sector", "Design of Blockchain Application", "Quantitative Asset Allocation Using Black-Litterman Model" and "Credit Risk Model for Individual Loan".
Teams from London School of Economics and Political Science, University of Toronto, Shanghai Jiao Tong University and Renmin University of China eventually won the championships, respectively.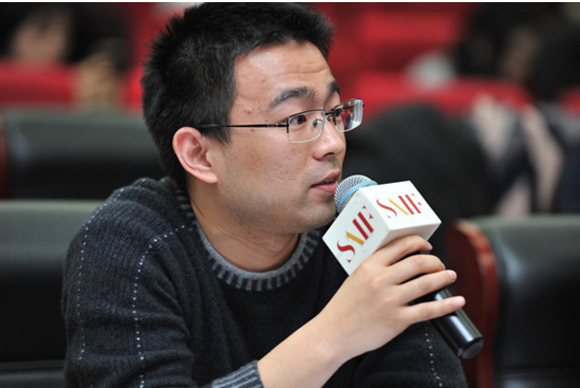 Chen Jiayue said, "The presentations of all participants impressed us a lot, with better-than-expected performance."
"I hope these participants, after the summit, could get to know more about the market needs and capitalize on their innovative thoughts to further upgrade traditional financial services," he added.
Chen is best known for his achievements in financial analysis. He holds a bachelor degree in computer at Shanghai Jiao Tong University, and a dual-degree in master of financial engineering and mathematics at Clemson University.
During the non-competition sessions, SAIF MF students made special presentations. With the guidance of professors and mentors, participants have more access to converse with company executives, who exerted profound influence on their understanding of the topics.
The International Youth Leadership Finance Summit, launched by SAIF MF Program in 2013, aims to create a platform of collective learning and advancement for students of higher education institutions, and to improve their understanding on financial theories and practices through presentation, competition and face-to-face dialogue with business leaders and scholars in the financial sector.
This year's four-day summit, starting on January 27, gathered a host of experts and business leaders who have domain expertise in the financial sector. This year's summit put the spotlight on fintech, with topics ranging from robo-advisors, block-chain to data mining.
Panelists discussed the evolution of fintech industry and shared the latest investment trends in artificially intelligence and innovative players.
Zhao Yang, senior vice president of Kuai Niu, made in-depth speech. He said: "Kuai Niu position itself as an AI-enabled group that delivers technology solutions for upgrading financial sector. Our goal is to outpace financial services companies (rather than BATJ). All we need to do is to provide technologies and services better than other financial services firms."
"Startups and small-and-medium enterprises are nimbler than established ones," Zhao added.
Che Pinjue, expert partner of venture-capital firm Sequoia Capital China, said big companies' problem lies in the fact that too many opportunities and temptations distract them from identifying core issues.
"But a startup could lay laser focus on one field, and make the most out of it," said Che, who was former vice-president of Alibaba Group.
Helen Mu, senior vice president of China PnR and CEO of PnR Data, illustrated in her speech how Targeting at AI technologies are changing the service approaches of financial institutions, citing her companies' practices.
Reports show that fintech firms leverage more and more technology innovations to develop the financial services segment.
Funding of finfech startups increased at a compound annual growth rate of 41 percent over the last four years, with more than $40 billion in cumulative investment, according to a report released by PWC, an international accounting firm.
The report found that mobile money services might have the chance to grow into a $3 trillion payments volume market.
Eighty-two percent financial institutions expect to enhance fintech partnerships in the next three to five years. 77 percent of them are expected to increase internal innovations, while 56 percent of them have put disruption at the heart of their strategy.
China, the world's second largest economy, has leapfrogged ahead as one of the undoubted centers of global fintech innovation and adoption.
Between July 2015 and June 2016, Chinese fintech investments in the market soared to $8.8 billion, commanding the largest share of global investment in this sector, according to a report by Ernst & Young, a global accounting firm.
As this exponential growth continues, China looks set to continue to dominate the global fintech industry with a very strong domestic market, the report predicted.
Forty percent of Chinese consumers are using new payment methods compared to 4 percent in Singapore. Thirty-five percent of them are using fintech to access insurance products compared to 1-2 percent in many Southeast Asian markets. There are also significantly higher rates of fintech participation in wealth management and lending, said the report.
So far, Kuai Niu is the only company in the industry that reached cooperation with Chinese tech heavyweights BATJ in joint modeling. (BATJ is short for Baidu Inc, Alibaba Group, Tencent Holding Ltd and JD.com)
Kuai Niu attracted plenty of top talents from tech giants like Tencent, Baidu, Dianping, renowned financial institutions and law firms, which lays a solid foundation for the company's future development.
Capital investment poured in as the market is being bolstered by substantial government support for innovation. So far, Kuai Niu has successively obtained financing of B+round.
The group won awards including "Fintech Institution of the Year" issued by WEMONEY New Financial Summit organized by media outlet ifeng.com, "China Times Cicada Award - 2017 Fintech Brand Award", "Zhongguancun Internet Finance Research, China Internet Finance 30 Forum - 2017 China Most Competitive Fintech Brand Award ", and "16th China Internet Conference Industry Pioneer Award."