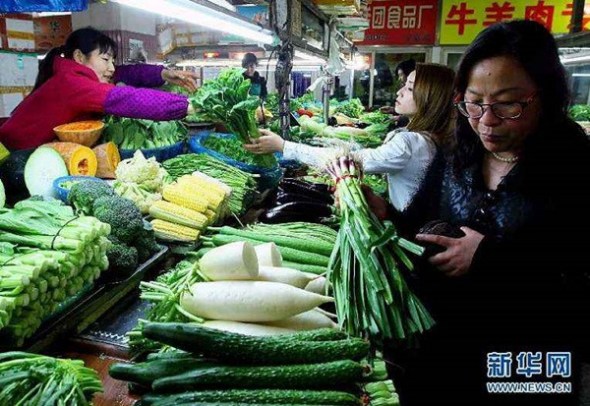 (Xinhua file photo)
China's consumer price index (CPI) rose 1.5 percent year-on-year in January, in line with economist forecasts.
The index was down from December's 1.8 percent, driven largely by the carryover effect, National Bureau of Statistics (NBS) statistician Sheng Guoqing said Friday.
"Food and non-food prices surged in January last year when the Spring Festival holiday formed a high base effect, help bringing the index down last month by 0.3 percentage points," said Lian Ping, chief economist with the Bank of Communications.
Service and non-food prices climbed 2.3 percent and 2 percent year on year, respectively, according to the NBS.
On a monthly basis, CPI was up 0.6 percent, higher than the 0.3-percent in the previous month.
The month-on-month rise was mainly attributed to higher food prices, influenced by bad weather, according to Sheng.
"The inflation in February would probably be the highest this year since the CPI was 0.8 percent during the same period last year, the lowest month in 2017," Lian said.
However, the possible index hike in February will not bring much inflationary pressure to the whole year as it cannot last.
Lian forecast that the CPI in 2018 might stand at 2 percent on average, higher than the 1.6 percent registered in 2017, but well below the government target of 3 percent.
Consumer demand will not be strong enough to prop up a high-rising CPI, given that China has been stepping up efforts to deleverage and contain financial risks as it looks to move from high-speed to high-quality growth.
The CPI figures came alongside the release of the producer price index, which rose 4.3 percent year-on-year in January, driven by fast price rises of raw materials and minerals.
It was down from a growth of 4.9 percent recorded in December, according to the bureau.
On a monthly basis, the index was up 0.3 percent, down from 0.8 percent the previous month.
For the whole of 2017, the PPI climbed 6.3 percent compared with a 1.4-percent drop in 2016, ending declines for the previous five years.
Looking ahead, Lian expects the PPI in 2018 to be around 3.5 percent, lower than last year, driven mainly by the carryover effect.
Analysts say the mild inflation leaves ample room for the government's macro policy maneuvers.
Tian Guoqiang, professor with Shanghai University of Finance and Economics, said that China would be able to make better use of monetary and fiscal policies to relieve the burden for the real economy.
China will adopt a prudent and neutral monetary policy and a proactive fiscal policy this year, according to the central economic work conference in December.
With a low inflation level, the country can continue to deepen supply-side structural reform, raise innovation capacity and competitiveness of the economy and push forward high-quality development, Tian said.
High-quality development is the "fundamental requirement" for determining development, economic policies and macroeconomic regulation, according to policymakers.