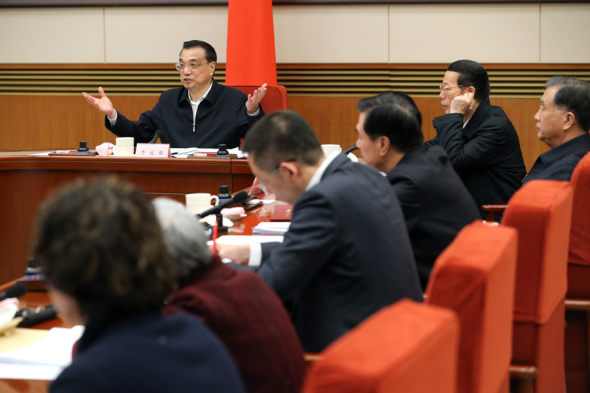 Premier Li Keqiang leads a meeting that solicited suggestions for the draft of this year's Government Work Report in Beijing on Wednesday. (WU ZHIYI/CHINA DAILY)
Li: Grassroots wisdom should be unleashed to solve problems
Premier Li Keqiang highlighted the importance of high-quality talent recruitment and basic research, such as mathematics, to better proceed with innovation-driven development.
That was part of Li's responses on Wednesday to suggestions made by professionals in higher education, science and technology, cultural protection, healthcare and sports to the draft of the Government Work Report. The report will be delivered by the premier to the National People's Congress next month.
Nine people, including university presidents, a famous volleyball coach, an actor and a deliveryman, were invited to speak at a State Council meeting and offer their suggestions.
Since the 18th National Congress of the Communist Party of China, the country has made enormous achievements in all courses under the leadership of the CPC Central Committee, Li said. Grassroots wisdom should be unleashed to solve problems closely related to people's lives, he said.
Dou Xiankang, president of Wuhan University in Hubei province, suggested the role of high-level talent be fully developed in building an innovation-driven country. He also called for more support to universities in the central and western parts of China.
Shi Yigong, president of Westlake Institute of Advanced Study in Hangzhou, capital of Zhejiang province, said excellent privately-run universities should be encouraged and supported.
Li said high-quality development, proposed at the 19th CPC National Congress, demands a large amount of high-quality talent. Governments at all levels should promote balanced distribution of educational resources, create a fair environment and give universities more autonomy in routine operations and talent cultivation.
More technological inputs should be made into basic research, such as mathematics, said Chen Zhiming, director of the Institute of Computational Mathematics and Scientific & Engineering Computing at the Chinese Academy of Sciences.
Li said basic research, as the foundation of an innovation-driven strategy, should be reinforced because no original innovation and key technological breakthroughs can be made if basic research is not strong. Incentive policies should be improved to make researchers fully dedicated to their research and encourage professionals to make more original and breakthrough achievements.
At the meeting, Li also discussed issues of cultural protection, the film industry, mass-market sports, express delivery and family farms.
The premier said more technologies should be used to better protect ancient cultural heritage, after Fan Shijin, honored president of Dunhuang Academy in Gansu province, called for a balance between cultural protection and tourism.
Lang Ping, head coach of China's women's volleyball team, said more fitness facilities should be built and the sports industry should be boosted to meet public demand for better health.