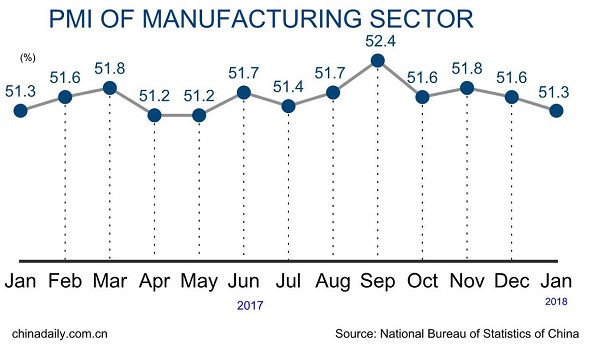 China's manufacturing purchasing managers' index (PMI) stood at 51.3 in January, down from 51.6 in December, according to data released by the National Bureau of Statistics (NBS) on Wednesday.
Despite the fall, the index has remained above 50, which demarcates economic activity expansion from contraction, for 18 consecutive months and is at the same level with January, 2017.
"China's manufacturing remains in the trend of stable expansion," said Zhao Qinghe, an official of the NBS, in a statement.
Due to the increasing economic activities ahead of the traditional Spring Festival, consumer goods manufacturing accelerated in January, with PMI for consumer goods manufacturing standing at 52.7, up from 52.4 in December, the NBS said.
The non-manufacturing PMI was 55.3 in January, up from 55 for December, the NBS said. It has moved up for three consecutive months, indicating the favorable trend of stable and improving expansion of the non-manufacturing sectors, Zhao said.
The NBS also for the first time released a composite PMI that combines manufacturing and non-manufacturing sectors to indicate the overall conditions of the economy. It was 54.6 in January, the bureau said.