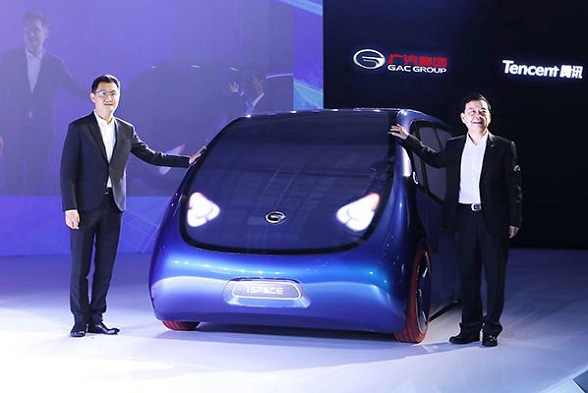 Tencent founder Pony Ma (left) attends a news conference with Zeng Qinghong, chairman of GAC Group, as the two companies jointly release the iSPACE electric concept car last year.(Photo provided to China Daily)
Alibaba and Tencent are waging war on yet another front: automobiles.
An investment subsidiary of Alibaba owns about 10 percent of Xiaopeng Motors, a Guangzhou-based new energy car startup, marking the latest entry into a crowded field that could become a $42 billion industry.
The move came amid a string of deals signed between the tech giant and automakers, as evidenced by its recent partnership with Ford and BMW to co-develop smart vehicles.
Under a three-year agreement, Alibaba and Ford will explore opportunities in internet-connected cars, artificial intelligence and mobile services, as well as digital marketing, while from the first half of 2018, BMW car owners in China will be able to use smart speakers to remotely access information about their cars.
That would pit Alibaba squarely against Tencent, whose ambition in the auto sector is exemplified by its effort in artificial intelligence research, its stakes in United States electric vehicle maker Tesla Inc, and the grooming of two EV startups, Nio and Weltmeister.
Tencent and GAC Group announced in September their intention to co-develop internet-connected cars and artificial intelligence-aided driving, as well as to explore investment in areas such as auto-related e-commerce, new energy cars and auto insurance.
More importantly, Tencent has unveiled an AI-backed system that allows automakers to produce cars capable of calculating the best route, order meals and find parking lots with minimum human intervention.
Such new features will probably debut in the next lineups of a clutch of industry players, including GAC Group, BYD Co and Zhejiang Geely Holding Group Co, which will bank on Tencent's computing capabilities and vast resources from mapping and payment to social networks, said Zhang Tong, head of Tencent's AI Lab.
The increasingly ubiquitous tech-auto tie-up would help satisfy Chinese users' big appetite for in-car connectivity features, according to experts.
"In China, connectivity such as synchronization between phone apps and car services … is a must-have feature, and people are more willing to pay subscriptions for content (on digital platforms) than customers elsewhere," said Wouter Baan, associate partner at McKinsey's Beijing office.