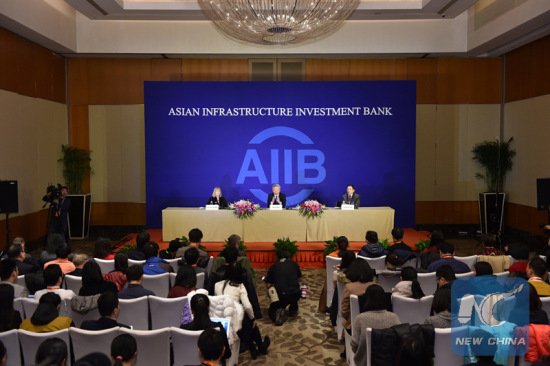 File photo: Jin Liqun (C, back), president of the Asian Infrastructure Investment Bank (AIIB), attends a press conference in Beijing, capital of China, Jan. 17, 2016. (Xinhua/Li Xin)
The Asian Infrastructure Investment Bank (AIIB) will never be a rival to other multilateral development banks (MDBs), according to AIIB President Jin Liqun, adding that the doors are always open to, among others, the United States and Japan.
EXTRAORDINARY FIRST TWO YEARS
Tuesday marks the second anniversary of the AIIB. Two years on, the organization has impressed the world with a long list of achievements, as its members increased from 57 to 84, and its projects scattered in 12 countries, involving over 20 billion U.S. dollars from both the public and private sector.
Moreover, the AIIB has received top credit ratings from three major international rating agencies, Moody's, Standard & Poor's, and Fitch, in what analysts have called a "miracle."
"I told my colleagues that the AAA credit ratings are not like a doctorate degree that is permanent. If we don't do our job well, the AAAs could be taken away anytime," Jin told Xinhua in a recent exclusive interview
The 68-year-old man said the AIIB had realized some goals previously set and made some unexpected progress.
"The international community is increasingly confident in the AIIB," he said. "China, as the initiator of the organization, kept its promises that the AIIB will abide firmly by international rules, and will not be subject to any political interference."
Jin thanked other MDBs such as the World Bank and the Asian Development Bank (ADB) for their support before and after the AIIB was founded.
Fourteen projects out of AIIB's total 24 projects were co-financed with the World Bank and the ADB.
"The AIIB is a great partner to work with, and is an important contributor to ending extreme poverty and supporting sustainable development by means of its mandate to finance sustainable infrastructure." Bert Hofman, World Bank director for China, Korea and Mongolia, told Xinhua.
Ben Bingham, country director of ADB PRC resident mission, said, "We look forward to strengthening our cooperation even further for the benefit of the Asia Pacific region."
"AIIB has never been, and will not be, a rival to other MDBs, rather, we would like to further cooperate with them." Jin said.
ZERO TOLERANCE ON CORRUPTION
Calling the AIIB a "start-up," Jin said that "to work out a series of mechanisms that really works is one of the priorities."
He said the bank had learned a lot from other MDBs. "But we are not going to clone the World Bank or replicate the ADB, which were founded decades ago." he said, adding that the AIIB had worked out a mechanism with its own characteristics.
The AIIB slogan, "Lean, Clean, Green" is the foundation of its organization.
"No tolerance will be shown on corruption," Jin said, noting that the AIIB had very strict anti-corruption rules in terms of recruitment and promotion.
"The reason that we established such a strict anti-corruption mechanism is to let every employee work whole-heartedly to serve our member countries without doing anything to harm the reputation of AIIB," Jin said.
U.S., JAPAN ARE WELCOME FOR COOPERATION
When talking about if the United States and Japan would join the AIIB, Jin said that the doors were always open no matter if they joined or not.
"We have sent out invitation with sincerity, but it ultimately depends on themselves to consider their entries, and we will not intervene," Jin said.
Jin said that even if the two countries currently did not join the AIIB, their enterprises were welcome to invest in AIIB projects.
The AIIB has already conducted cooperation with the United States and Japan, including hiring U.S. rating agencies and U.S. and Japanese employees.
"We are confident of tackling any challenges, and I believe the AIIB will make greater achievements," Jin said.