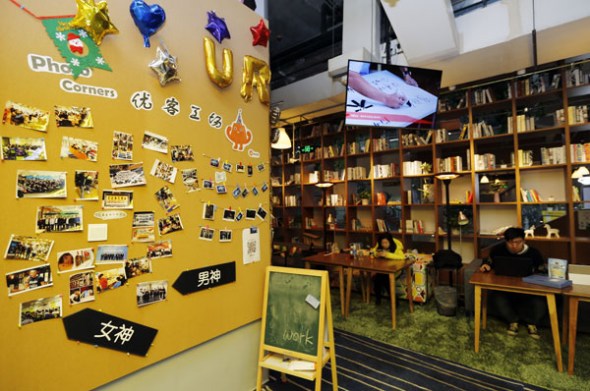 Ucommune, China's co-working space unicorn, offers many conveniences at its facilities. (Photo/China Daily)
The business of co-working spaces has entered a new stage in China. Firms operating co-working spaces are seen as service providers equipped with intelligent tools. Such spaces can help promote smoother communication, higher working efficiency and better user experience among firms that use them, experts said.
Imagine this: when you approach the gate of the office building, the desk will adjust itself to the height that best suits you since it "knows"-or, the system will inform it-you have arrived.
If you click "export" in Singapore, the document will appear on the printer to reach your colleague in Beijing.
The so-called intelligent elevating desk and cloud printing are parts of the intelligent services that Ucommune, China's co-working space unicorn with market value of 9 billion yuan ($1.39 billion), offers at many of its offices, according to the company.
The initial version of shared office was meant for companies to share the same space in order to save rental cost, said Yan Quhai, senior board director of Cushman and Wakefield, global estate services provider, at a news conference in late December.
Then, more areas were separated to house different functions. Now, co-working space has evolved into a service provider where all the basic demands of the settlers, including clothing, dining, entertaining and accommodation, can be satisfied, he said.
In the upgraded offices of Ucommune, customers can buy snacks and beverages, store personal goods, and use garment trial rooms or laundry rooms all by themselves, make cashless payments via facial recognition technology, without help from staff members not far away, according to the company.
"What people in modern times want is convenience and time-saving," said Mao Daqing, founder and CEO of Ucommune. "New technologies can make office space more diverse and intelligent."
The change also significantly helped save the cost of human resources, said Shi Nan, public relations manager of the company.
"For office space with an area of less than 1,000 square meters, we used to need one managing staff. Now, no more than eight employees are needed to take care of a 20,000-square-meter office," she said.
Co-working spaces will make up 30 percent of the office market in China by 2030, according to Colliers International Group Inc, the US-based real estate services provider.
With more startups springing up in emerging industries amid the country's stress on innovation and entrepreneurship, demand for flexible office space will keep growing, said Yan from Cushman and Wakefield.
Competition has become fiercer among the many co-working space brands in China since customers now have more choices, he said.
"The key for brands to strive in the market is to improve experience with innovative new technologies and services with high quality."
At the co-working space operated by Krspace at Xujiahui in Shanghai, each meeting room is equipped with an intelligent electronic screen for attendees to scan the QR code and download the content therein on their cellphones, without having to take notes using paper and pen, according to the company.
The indoor environmental monitor can adjust the air conditioner to ensure an ideal temperature and humidity. The lights can turn off themselves if nobody else is in the office to save energy, it said.
Hu Tao, manager of its intelligent hardware products, said the company is considering if it should add some social function to the intelligent facility.
"For example, when the first employee of a company comes to the office, he or she will receive a red packet (cash e-gift) on the phone," Hu said.