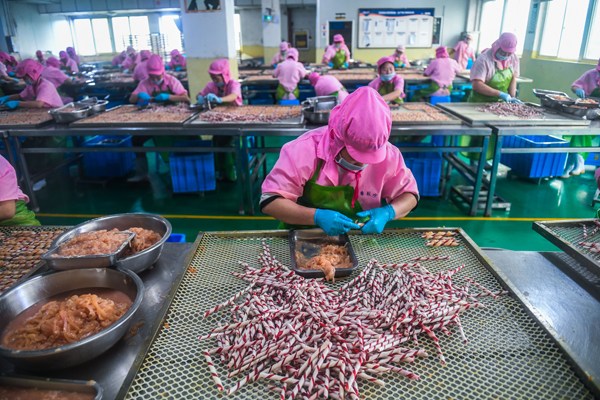 Pet food is produced at a factory in Pingyang county of Wenzhou, Zhejiang province. The pet-related industry has boomed in the county due to industrial upgrading and transformation. (Photo/Xinhua)
Local government supports growth in real economy by sourcing funds for companies, relaxation of rules
Wang Jun, a scarf manufacturer and exporter in Wenzhou, a city in East China's Zhejiang province, didn't expect his boutique business stand to wind up applying for a third design patent.
Not so many years ago, that sort of thing wasn't even on the radar for Wang, owner of a mom-and-pop factory. After all, the 35-year-old used to think intellectual property is normally "proprietary to big businesses".
But since the launch of the Intellectual Property Service Park of Wenzhou in June 2016, the nation's first IP fast-registration body, such applications have been trimmed from roughly half a year to just 10 days.
The mechanism is now in place to encourage more businessmen in the city to stay committed to the real economy, according to Wang Yaozhang, the center's general manager, who witnessed 685 such applications in a year's time through October 2017.
Seven years ago, Wang said he could not imagine himself being a beneficiary.
"Back then, many investors gave up their decade-long businesses in the manufacturing sector and turned to high-yield, risky speculations in the property or stock market," he recalled. "When share prices dipped, they became debt-laden and the economy was hit hard."
Wenzhou is well-known as the country's cradle for private entrepreneurship. After all, a startling 98 percent of the local economy is based in the private sector, a majority of which is family-run.
The port city and its residents are known for their business acumen and created industrial clusters of small businesses making everything from shoes to cigarette lighters and other electrical components.
But because banks traditionally offered loans only to large-scale enterprises, families pooled their cash and organized informal lending societies to fund cash-strapped smaller businesses, backed by the trust born of their tight-knit community.
Then came 2011, when the same city captured news headlines after being embroiled in a private lending crisis that crippled its economy. Companies in Wenzhou, which had been counting on a steady flow of financing to fund their bets on stocks and property, were in trouble.
Bad loans spiked, unlicensed underground banks collapsed, and dozens of investors fled their debts.
In the past seven years, however, Wenzhou has been getting back to work. The government has been heralding a spate of policy moves to support growth, through sourcing funds for businesses and rules relaxation, among other measures.
On the financial front, small businesses in Wenzhou can be established with zero registered capital, and they can borrow using their equity as collateral.
The city also gave private businesses the right to establish lending companies, trying to steer them into the formal financial system. Small and medium-sized enterprises in Wenzhou may borrow from banks, qualified underwriters and small-loan firms under that arrangement.
As a result, the bad loan ratio dropped from 4.68 percent at its peak to 2.26 percent by the end of June 2017, while economic growth topped 8.4 percent by the end of the third quarter, among the fastest pace in years, said Zhou Jiangyong, Party chief of Wenzhou.
To make the economy more resilient, the city has forged a modern economy based on contracts and credit records to replace what used to be a blood-bond or kin-based mechanism that eventually led to the debt crisis.
By introducing a credit-rating mechanism, the government offered loans totaling 2.46 billion yuan ($378 million) to more than 1,400 trustworthy enterprises in 2016, while blacklisted firms weren't able to enjoy incentives from favorable credit, tax reduction or other preferential policies, said Fang Yongjun, head of Wenzhou's city commission of development and reform.
To channel more companies into the real economy-i.e. the manufacturing of physical goods-the city introduced a variety of financing options to quench the capital thirst during business expansion.
"Targeting companies with good credit records and robust business performance, we've allocated 500 million yuan of funds to alleviate the financial burden for those that are seeking an IPO," Fang said.
Firms are also encouraged to exploit technologies to advance manufacturing. Manufacturers invested more than 3.6 billion yuan in the first three quarters of 2017, attracting strategic emerging industries from laser to new energy cars, according to Hou Bizhong, deputy head of the city's investment promotion bureau.
Even traditional industries have taken on a digital makeover. Saint Angelo, a local suit manufacturer, has leveraged cloud-based manufacturing to halve its production cycle from 15 days to seven days through the integration of its supply chain, distribution and sales services.
"Cloud systems can transmit customer requirements in the blink of an eye, match key metrics with our production facilities and automate the production process by mixing and matching key metrics with our production data," said Zhao Guohua, the company's director of production.
The company expected revenue generated from its more lucrative tailor-made business segment to surge from 800 million yuan in 2016 to more than 1.2 billion yuan in 2017.
Wenzhou's trajectory echoed a recovery being staged in China's real economy. The latest regional economic trackers indicate that high-tech and strategic emerging industries are fueling growth momentum in areas where the service industry largely rules.
In Zhejiang province, the added value of the industrial sector jumped 8.3 percent in the first nine months of 2017, beating the previous 8.1 percent same-period GDP growth record seen in 2014, said Che Jun, Party chief of Zhejiang.