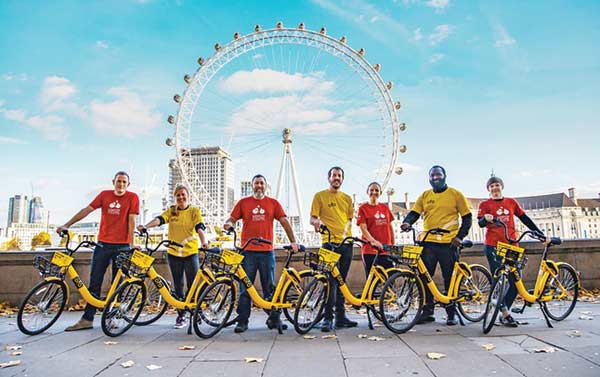 Ofo and bike charity London Cycling Campaign are partnering to get more Londoners on bikes. (Photo provided to chinadaily.com.cn)
After a period of quiet introduction last year, Chinese bike-sharing companies have started 2018 with explosive growth across British cities.
Beijing-based Ofo was the first dockless bike hire operator to enter the United Kingdom, in February 2017, when it rolled out a modest 20 bicycles in Cambridge. The company's fiercest Chinese rival, Mobike, soon followed, launching 1,000 bikes in Manchester in June.
The companies have since expanded to cities throughout the UK. Mobike operates in Newcastle, Ofo has claimed Norwich, and both compete for customers in Oxford and London.
The number of Mobike bicycles in the capital has quadrupled to 1,000 since September, bringing its London fleet in line with that of Ofo. And on Tuesday, Ofo rolled out 1,000 more bikes in Sheffield, its biggest UK launch to date.
And these numbers are set to rise dramatically; the companies operate in a handful of the capital's 32 boroughs but are in talks to launch in several more. Ofo's ultimate goal is to grow its London fleet to 150,000 bikes, according to company co-founder Zhang Yanqi.
Joseph Seal-Driver, general manager for Ofo in the UK, says the firm "welcomes competition" in London from Mobike because it is "healthy and it benefits the public".
And the public is benefiting from low prices and regular promotions from both Ofo and Mobike as the two compete for customers. Single trips currently cost 50p ($0.68), while docked bike-sharing schemes in the UK charge up to four times as much.
Zhang told the Evening Standard in November that Ofo is "not making money on paper". Both Ofo and Mobike are supported by significant investments, having raised $700 million and $600 million, respectively, in funding rounds last summer.
Several smaller bike-sharing companies have gone bust in China during the past 18 months, unable to compete with companies that feed off such levels of funding.
Allen Zhu, an investor in Ofo, told an economy forum in Shanghai in September that Ofo and Mobike will only be able to turn a profit if they merged. But representatives from both companies told China Daily such a merger is not going to happen, despite media speculation predicting it will.
For now in the UK, Ofo and Mobike continue to grow alongside four other dockless operators – oBike, Urbo, YoBike and Pony Bikes. The proliferation of such bike-sharing schemes has led to calls from local councils for legislation to curb issues such as bike littering.
Local authorities in Oxford, which has four dockless operators, the most of any UK city, have created a code of conduct for companies. And in late December, UK transport undersecretary Liz Sugg told Parliament the government was talking with both Ofo and Mobike regarding regulation.