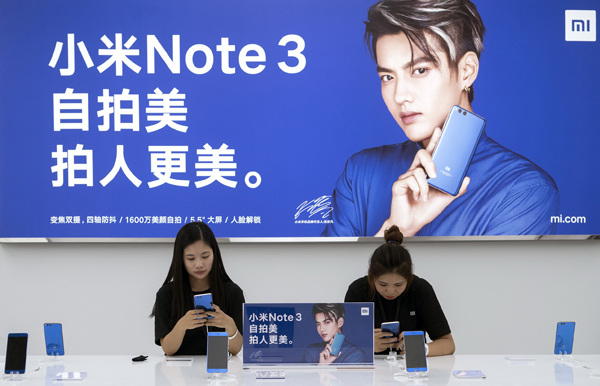 Employees of Xiaomi Corp test the company's gadgets at a product launch event in Beijing. (Photo provided to China Daily)
Xiaomi Corp plans to go public in the second half of 2018, reportedly seeking a valuation of up to $200 billion, as the smartphone firm steps up its globalization efforts.
If the valuation is recognized, Xiaomi would be the biggest technology initial public offering after Alibaba Group Holding Ltd, which raised a record-breaking $25 billion for a $231.4 billion market value in 2014.
Xiaomi is considering an IPO in either Hong Kong or New York, news.163.com said on Monday, quoting people familiar with the matter.
Lei Jun, CEO of Xiaomi, had discussed the IPO plan, including the $200 billion valuation target, with investment banks last November. In addition, senior executives have also informed several employees of the impending public issue, the report said.
"Some people are already offering to buy our options based on a valuation of $95 billion," a Xiaomi employee was quoted as saying.
Xiaomi declined to comment on the story.
Xiaomi was valued at $46 billion in its latest funding round in 2014. After struggling with declining sales in 2016, the Beijing-based company managed to revive growth last year, partly by opening offline retail stores and expanding presence in overseas markets, especially in India.
The company said it has topped the annual revenue goal of 100 billion yuan ($15 billion) by the end of last October, without disclosing details on profits.
Shen Meng, director of boutique investment bank Chanson & Co, said it seems a good timing for an IPO, as the company is back on the rapid expansion track.
"But the $200 billion valuation is undoubtedly too high even by the standards of Chinese companies' high price-to-earnings ratio. Xiaomi's market performance can by no means support that," Shen said. "Something between $50 to $100 billion is more likely."
Xiang Ligang, CEO of telecoms industry website Cctime, said Hong Kong would be a better destination for Xiaomi than New York, because local investors know more about Chinese mainland companies and may give them a higher valuation.
In the third quarter of last year, Xiaomi caught up with Samsung to become the largest smartphone brand in India, the fastest-growing major smartphone market. It occupied 23.5 percent of the local market with a shipment of 9.2 million units, marking a 300 percent year-on-year jump, data from the research company International Data Corp show.