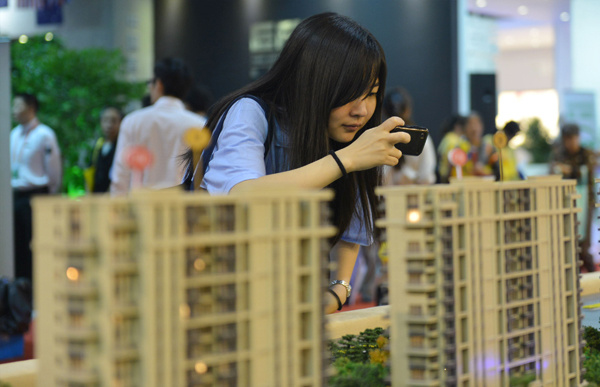 A Hangzhou denizen takes pictures of models of a housing estate at a sales center. China's prominent property firms are entering the long-term home lease market, in line with government policy. (Photo provided to China Daily)
About one-third of China's top 30 property companies have entered the long-term home rental market, according to a report from CRIC, a real estate research services provider.
This follows a government-led campaign to encourage more people to rent rather than buy homes.
Country Garden, a major real estate developer, announced in late December that it plans to build 1 million apartments in the next three years.
The apartments will serve young people who seek long-term rental homes because they are in early stages of their careers and cannot yet afford to buy a home, according to the company.
Yang Guoqiang, founder and chairman of Country Garden, said he can relate to such young people, having lived in a room no larger than 6 square meters himself during his early years as an adult.
The listed company's sales surpassed 500 billion yuan ($76.3 billion) in 2017.
"China is promoting home rentals. This shows the country's concern for its people. We are happy to play a part," he said at the news conference on Dec 20.
The central government released a series of policies to promote balance between outright home sales and property rentals, as part of an effort to cool the overheated real estate market and meet the growing demand for accommodation, industry insiders said.
About 160 million people rent houses in cities. They constitute about 21 percent of the total urban population. Most of them are graduates and migrant workers, according to data from the Ministry of Housing and Urban-Rural Development.
Individuals constitute about 90 percent of tenants. Less than 2 percent of rental homes are rented directly by apartment operators for sub-leasing, and 1 percent are rented by real estate developers with a view to diversify, according to a Shanghai association of apartment firms.
A State Council document released in June 2016 stated that more firms specializing in professional rental services would be welcome, and will receive special treatment in terms of finance policies, taxes and land allotment.
It added real estate firms are encouraged to rent out their inventory of commercial homes and newly built homes, as well as establish cooperation with intermediary agents.
So far, 56 cities have put forward rental-related policies, covering aspects like rights' protection for tenants and home owners, increased supply, setting up of rental companies, and reduction of tax revenue, according to the 2017-18 blue paper on the Chinese rental market released by 58.com, an online marketplace for rental homes, in late December.
Zhang Bo, chief analyst of Anjuke, an online property information provider, said more than 10 cities have increased land supply for house rentals. About 30 percent of land will be allocated to home rental firms nationwide in the future.
Not surprisingly, real estate giants are now seeking to buy land to develop properties purely for the rental market, he said.
"Land could boost new rental home projects, and help standardize large-scale developments for tenants," said Zhang.
Ren Zeping, analyst from Founder Securities, said real estate companies can also benefit from the rental business as it would help restructure the property industry, in terms of cash flow, customer stickiness and linkages to upstream and downstream resources.
Revenue of China's rental homes market will reach 4.2 trillion yuan by 2030, up from 1.3 trillion yuan now, according to a research report from Orient Securities.
Besides Country Garden, property giants including China Vanke, Dalian Wanda, Poly Group, Longfor Properties Co Ltd and Cifi Group, now have a presence in the home rental market.
Vanke began to construct a multi-business community in Foshan in Guangdong in early November. Some 2,400 apartments in the community will be rented out.
The blue paper from 58.com shows more than 67 percent of tenants in China are younger than 30. And 41 percent of them choose to change apartments to improve their living environment.
"Since tenants have begun to demand a higher quality of life, rentals will keep growing at a stable rate, which will help promote middle- and high-level rental markets," said Zhang from Anjuke.
The home rental market grew at 16.7 percent last year, compeared with 8-15 percent annually from 2012-16, he said.