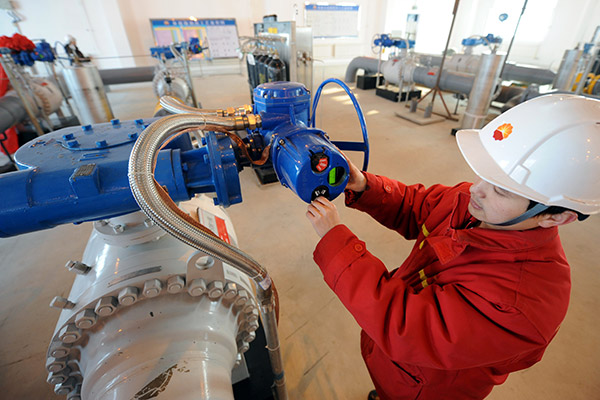 A technician adjusts a valve on a China-Russia oil pipeline in Daqing, Heilongjiang province. (Photo by Guo Junfeng/for China Daily)
The second line of the China-Russia oil pipeline began commercial operation on Monday, another step in diversifying China's energy supply and ensuring its energy security, according to China National Petroleum Corp, the country's biggest oil producer.
With an annual capacity of 15 million metric tons, the project is expected to double China's annual imports of Russian crude oil to 30 million tons, filling the supply gap caused by the decline in crude oil production in northeastern China.
The 941.8-kilometer-long line starts from Mohe in Northeast China's Heilongjiang province, which borders Russia, crosses North China's Inner Mongolia autonomous region, and ends in the city of Daqing in Heilongjiang. Its construction began in August 2016 and ended in November last year.
The project set the record for constructing 800 kilometers of pipeline in 180 days in a high-latitude extremely cold area and is aimed at deepening energy cooperation between China and Russia and serving the Belt and Road Initiative, according to CNPC.
The second oil pipeline was built parallel to the first line between Mohe and Daqing, which was put into use on Jan 1, 2011. It has transported a total of 110 million tons of crude oil so far, Xinhua reported.
With the launch of the second line, Russia has become China's biggest exporter of crude oil, said Han Xiaoping, chief information officer of China Energy Net Consulting.
"Apart from the two pipelines, China also imports a large amount of crude oil through freight trains from Russia," Han said.
The two countries are also intensifying energy cooperation in natural gas, with the China-Russia East-Route Natural Gas Pipeline expecting to send up to 38 billion cubic meters of gas to China each year from this year.
"China imports more than 60 percent of its crude oil from other countries, and more reforms are needed to boost domestic production,"Han said.
These reforms should be carried out in three major State-owned oil giants, namely CNPC, China Petroleum & Chemical Corp, also known as Sinopec, and China National Offshore Oil Corp, to allow more private investment in the development and exploration of oil and gas, he said.
China had 37.73 million tons of crude oil in its Strategic Petroleum Reserves by the middle of this year, according to the National Bureau of Statistics.
By the middle of last year, the country had built nine national oil reserve bases to avoid foreign dependence. These are mainly located in coastal regions, including Zhoushan, Dalian, Qingdao and Tianjin.