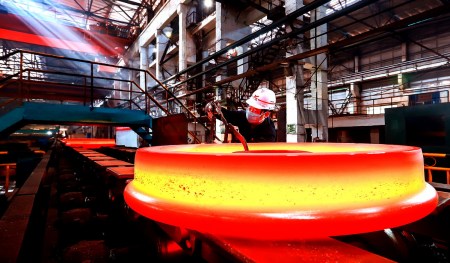 A worker tests new wheel products at a steel plant in Ma'anshan, Anhui Province. (Photo/CHINA DAILY)
China will take more concrete steps to further its supply-side structural reform and push for high-quality development in 2018, focusing on cutting overcapacity and fostering new growth drivers in the real economy, said officials and analysts.
"The country will establish development funds to further the Made in China 2025 strategy and direct more private capital into the real economy, in order to better finance important manufacturing projects," said Miao Wei, minister of industry and information technology, at the ministry's annual conference, without elaborating on the size of the funds.
According to Miao, China will establish three new national innovation centers in 2018, and aims to tackle 50 bottlenecks that impede industrial development such as high-performance batteries for electric vehicles.
China established three centers in 2017 to promote R&D of optoelectronic information technology, printed flexible display screen and robotics, said Qu Xianming, an expert with the National Manufacturing Strategy Advisory Committee.
Supply-side structural reform will continue to be the main theme of China's economic work in this year, said Yang Weimin, deputy head of the Office of the Central Leading Group on Financial and Economic Affairs during the annual conference of the China Center for International Economic Exchanges.
"The country will focus on shutting down debt-ridden, loss-making zombie enterprises and reducing overcapacity through market-based and legal methods this year," Yang said.
Great headway has been made in cutting overcapacity, reducing the number of unsold homes, curbing debt levels, lowering business costs and dealing with weak links in 2017, said Ning Jizhe, head of the National Bureau of Statistics at the CCIIE's annual conference.
Annual targets of cutting steel capacity by 50 million metric tons and coal capacity by 150 million tons were accomplished in August and October last year respectively, according to the bureau.
More than 1 trillion yuan ($154 billion) were saved for Chinese businesses last year, on top of the 1 trillion yuan cost reduction achieved in 2016, Ning said.
By the end of November, the debt-to-asset ratio of major industrial firms dropped to 55.8 percent, 0.5 percentage point lower than in 2016.
Although China has made great achievement in cutting overcapacity, it has not done enough in producing high-quality goods, said Chen Wenling, chief economist at the China Center for International Economic Exchanges.
"Made-in-China products still leave an impression of cheap price and low quality", Chen said.
China should rebuild its image as a country with high-quality goods to cement its position as the second largest economy in the world, she added.