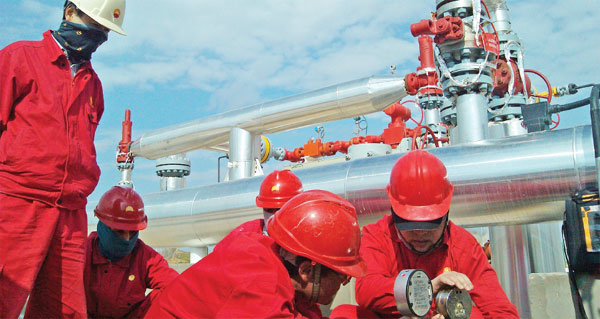 Staff of CNPC, China's State-owned energy firm, check facilities in Turkmenistan in 2013. (Photo provided to China Daily)
China plans to issue management guidelines to crack down on commercial bribery and tighten rules on product quality and environmental protection for its centrally controlled, State-owned enterprises operating in overseas markets, the country's top SOE regulator said on Tuesday.
The move came after the State-Owned Assets Supervision and Administration Commission in the first half of 2016 selected five companies-China Mobile, China Merchants Group, Dongfang Electric Corp, China National Petroleum Corp and China Railway Group-as trial businesses that would be made more disciplined, transparent and tougher on product quality.
The companies had completed more than a year of a trial run by the end of 2017 and are being assigned by the commission to help finish draft rules to better guide and manage the 98 central SOEs. The draft will be reviewed by the commission sometime this year, according to the commission's regulatory bureau.
There are many government branches, such as the National Development and Reform Commission, that have the power to restrict and regulate unsatisfactory behavior by SOEs in the domestic market, said Xu Hongcai, an economist at the China Center for International Economic Exchanges.
But SOE activities abroad are relatively uncharted, falling short in effective supervision. Irrational decisions, poor quality of local partners and turbulent political situations can all lead to financial losses.
Eager to keep its growth momentum going, China will work more on its supply-side structural reform in 2018, with more effort to improve economic quality, promote innovation, cut overcapacity and protect the environment, according to the annual Central Economic Work Conference in December.
"This move at this time will be helpful for China to offer its giant central SOEs operating overseas clear rules against corruption, bribery and environmental damage," said Gao Peiyong, director of the Institute of Economics at the Chinese Academy of Social Sciences.
Gao said it also will provide a guidance and a risk warning system on overseas investments and direct SOEs to make better-informed decisions based on competitive advantages and local market demand. Unfair competitive practices will be severely punished.
China's SOE numbers are down from 117 five years ago with the restructuring of central SOEs to improve efficiency and competitiveness. Reforms included changing shareholding structures, spinning off noncore assets and boosting innovation.