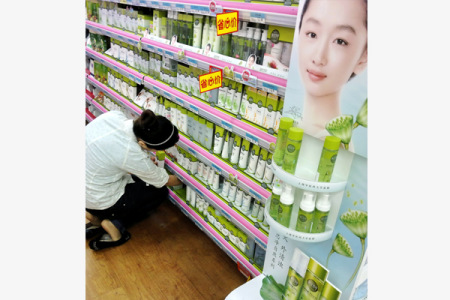 A saleswoman sorts out a display of Inoherb products at a supermarket in Shanghai. (Photo/hina Daily)
Rebranding to help Shanghai company expand presence abroad
Shanghai-based Inoherb is banking on traditional Chinese medicine to give it the winning edge in the global skincare product market.
The company has already made a name for itself in the Chinese market for the last 18 years with its signature skincare collection formulated with Rhodiola Rosea, a precious herb commonly used in TCM preparations. Inoherb is now looking to replicate that success to other TCM-themed skincare products.
Created in 1999 by Feng Shuai, whose grandfather was a surgeon and the founder of a prestigious hospital, Inoherb had for years been the top player among all of the domestic skincare brands in China. In 2013, its sales stood at 2.3 billion yuan ($353.5 million) after nearly five years of close-to-100-percent growth every year. That year, both US brand Revlon and Garnier under cosmetics giant L'Oreal announced their retreat from China due to low sales.
By 2015, however, the company's revenue had dropped to 1.5 billion yuan, and its market share slipped to 0.8 percent.
"I think when we were on the top, we were just too busy heading forward and ignorant of the potential road-blocks," said Yan Ming, CEO of the company, looking back at the struggles over the past few years.
By rebranding the brand as a "unique player that not only makes TCM-themed skincare products, but also proves them to be scientifically effective", Yan expects Inoherb to regain double-digit growth in 2018 and become one of the top three players in five years.
"It is not only about including certain types of herbs, but also about the proportion used and the recipes. With our expertise and partnership with the Shanghai University of Traditional Chinese Medicine, we want to bring TCM-themed skincare products to a new level, where the effect can be seen, felt and evaluated," said Yan, who left the company in 2014 to become an investor in the beauty industry and returned to it last year.
Some 30 new products are expected to be launched in 2018. The idea of incorporating Chinese herbs or TCM-inspired therapies into beauty products has been one of the most popular trends in both east and West over the past few years.
In 2015, U.S. cosmetics giant Bobbi Brown launched a serum foundation formulated with Cordyceps mushroom extracts, one of the most precious herbs in TCM that is believed to have antiaging properties. The 30-mililiter liquid camouflage, sold at $68, has since been one of the best-selling products of the brand.
South Korean premium skincare brand Sulwhasoo has developed most of its products with ingredients from Chinese herbs. According to the parent company of the brand, Amorepacific Group, it earned sales of over $6.1 billion in China in 2016, up 18.3 percent year-on-year, with strong performance both on e-commerce platforms and more than 100 sales points in department stores in the country.
"The rise of domestic brands and skincare treatments taking inspiration from TCM is a result of bilateral efforts," said Dong Shufen, secretary-general of the China Association of Fragrance Flavor and Cosmetics Industries.
"On the one hand, companies are investing more in innovation and research and development in competition with their Western counterparts; on the other hand, consumers are no longer obsessed with anything that is tagged with foreign labels and are more confident in their own culture," she added.
The association said that the country's skincare and cosmetics industry has grown from 170 billion yuan in 2011 to more than 300 billion yuan in 2017. The market share of domestic brands has risen from 12.8 percent in 2012 to 17.6 percent in 2016.
"The jump in share is particularly significant considering the market is getting ever crowded, as more and more foreign players are tapping into the world's fastest growing and second largest market (after the U.S.)," said Dong.
But the oriental remedies haven't been a guarantee to commercial success for all.
Late in 2012, Estee Lauder Companies Inc announced that it was testing a new skincare brand called Osiao, which features a specialized formula containing Chinese plants like ginseng. The brand was scheduled to be introduced on the Chinese mainland within 18 months after trial sales in Hong Kong. But the brand, which sells a bottle of facial serum for $211, is yet to debut on the mainland markets.
Similarly, Procter & Gamble Co in 2013 launched its first hybrid east-meet-West beauty line, Oriental Therapy, to consolidate its leading position in China. But it disappeared from the market within a year of its launch.