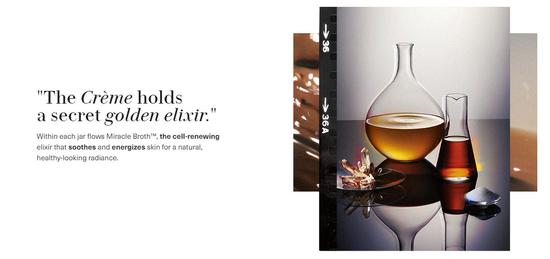 The introduction of the ingredient in its US website which said the Miracle Broth could soothe the skin and heal away dryness.
An American cosmetic brand, La Mer, was accused by a beauty blogger with one million followers on Weibo, Twitter-like social media in China, of false advertising on its Chinese website.
On September 26, the blogger, Dr Big Mouth, whose real name is Hao Yu, said that La Mer, owned by Estee Lauder Companies, has made an exaggerated and false advertising. It claimed the product could restore the skin and even heal burn scars. While, the introduction of the product on Chinese website is also different from the one in the U.S..
On its Chinese website, La Mer claimed that the key ingredients in the products, Miracle Broth™, could restore the skin and even help heal burn scars. However, on its U.S. website the company merely said that the active cell-renewing ingredients in Miracle Broth "soothes, moisturizes and heals away dryness", revealing a natural and healthy-looking radiance.
"Obviously, it is a discrimination against Chinese consumers", Hao wrote on his Weibo on Wednesday, "I didn't oppose the product, but rather its dishonesty."
Its Moisturizing Matte Lotion, running from 260 U.S. dollars to 2,095 U.S. dollars for a 16-ounce jar, made a fancy tale about its inventor.
A German rocket scientist named Max Huber, spent 12 years finding ways to heal and restore his burned face in a lab accident. Then he found the answer in the "pristine waters of a nutrient-rich kelp forest in the Pacific' and invented the cream.
The accusation by the blogger has triggered a heated discussion and speculation in China, with over 30,000 comments under the blogger's post. Some people thought the exaggerated or false advertising make the customer confused.
"I once asked the sales person in store in the U.S. and she said the crème cannot restore the scar," said Yanianyanian under the post of the blogger.
"I have used La Mer for over five years, which cost me over 50,000 yuan (around 7,261 U.S. dollars). I didn't find anything special inside the product, but the advertising motivates me to use it everyday," said I am a teddy bear named Woody on Weibo.
In response, the public relations department at Estee Lauder's office in Shanghai said in a statement that "La Mer is committed to the highest standard of craftsmanship and quality of ingredients. We sincerely invite you to experience our product in store".
"The core function of La Mer's products is to soothe and to moisturize the skin," Sun at the brand's Public Relations department said. "if your skin condition is out of control, we suggest you to see a doctor".