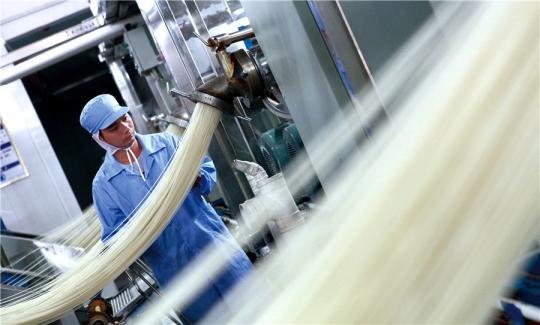 A staff member supervises the production process at the company's mill. (DARA WANG/CHINA DAILY)
Going back to the drawing board helped a failing producer avoid bankruptcy. Dara Wang reports from Hong Kong.
Jiangxi Wufeng Food, a small rice-noodle mill in Huichang, Jiangxi province, has achieved near legendary status in Hong Kong after nearly crashing and burning in the late 1980s.
Today, about 150 bowls of the company's noodles are sold every minute at two of the biggest rice-noodle chain restaurants in Hong Kong - Tam Chai Yunnan Noodles and Tam-Jai SamGor Mixian.
Aficionados credit the noodles' popularity to their distinctive chewy texture.
Jiangxi Wufeng's success only came after three years of trial and error, effort and frustration, but it stands as an example of how small companies can overcome the odds.
Before becoming a subsidiary of China Resources Ng Fung in 1996, Jiangxi Wufeng was a 20-worker factory that had been administered by the Huichang county food bureau since the 1960s.
Sales were poor, and production was less than 10 metric tons a year. In 1989, the situation deteriorated further when customers complained the noodles were causing indigestion, gastric pain and flatulence.
It was time to create something better or go broke.
Seven workers, including Guo Yonghong, who later became the company's manager, formed a research and development team to oversee machinery design, data handling, plant operations and quality control.
When she was asked to join the mill's research and development process, Guo hesitated for several days out of concern for her 1-year-old daughter.
She finally decided to accept the offer, but she sent her daughter to live with her parents in nearby Ruijin county because the work schedule was so demanding. Guo's greatest regret is that her daughter did not live with her until the girl entered Grade 3 at primary school.
1234Next >>|
A Jiangxi Wufeng employee works in the mill in Huichang, Jiangxi province. [DARA WANG/CHINA DAILY]
A new goal
"Our goal was to produce elastic rice noodles, suitable for everybody, even those with stomach problems," Guo said.
The team discovered that the problems were caused by the fermentation process, an essential part of the production cycle in which sugar is consumed in a totally oxygen-deprived environment. In addition to partially processing the noodles, the procedure produced acids and gases that caused stomach upsets.
Because the noodles were only partially processed by the procedure, they became less chewy and therefore less appetizing, and they also broke up in boiling water, Guo said.
The team overhauled production by abandoning the traditional fermentation method and devising a new one from scratch that would avoid stomach upsets.
They soaked the rice, mashed it and pressed it into noodles at a high temperature. Initially, the results were disappointing because the unfermented rice was only 10 percent processed and the noodles still broke up in boiling water.
After numerous tests, the team discovered that when the rice was crushed into particles small enough to pass through a 0.25 millimeter sieve and then pressed, the fermentation method raised the processing level to about 75 percent.
Then, it was time to go back to the drawing board to find a way to process the noodles thoroughly. The raw noodles were placed in an enclosed steam room at a specific temperature and humidity for eight hours, leaving them 85 percent processed. Two minutes of extra steaming raised the level to 95 percent.
Still, the product wasn't perfect. "We achieved the level of processing we wanted, but when the noodles were taken out of the steam room, we were all stunned," Guo said.
The noodles had hardened and fused together, so the workers tried unsuccessfully to prise them apart by hand. "Even if we had used all our strength until our hands turned red, we still would not have been able to separate the noodles," Guo recalled.
The workers tried everything they could think of, including covering the noodles with a cotton quilt soaked in water and using an induction cooker in the hope the steam would soften them. Nothing worked.
Months later, as the team members' patience was at breaking point, one of them vented his frustration by pitching a handful of the rice noodles into a vat of cold water.
The fused, rock-hard noodles separated and, crucially, did not snap when cooked in hot water. They even held their shape when a wooden bread comb was run through them.
The factory adapted the method, and now uses a machine with comb-shaped spurs to separate the noodles.
During the three-year experimental period, Guo worked from 7:30 am to 2 am for just 15 yuan a month.
She had almost no time to eat or sleep. She developed stomach problems and her weight dropped to 45 kilograms.
Her dorm closed before midnight, so she often had to squeeze through the iron bars on the front door to gain entry.
However, the intense schedule didn't beat Guo, and she never regretted joining the team, even during the toughest times.
When talking about her daughter, her voice softened: "She's the one I owe the most."
|<>|
Rice noodles prepared for a breakfast in Huichang. [DARA WANG/CHINA DAILY]
First success
All the workers' efforts had finally paid off. Now, they needed orders.
In 1992, the factory took its new formula rice noodles to a food expo in Hainan province. For publicity purposes, the team used a photo of a 2.3 kg weight suspended from a single uncooked noodle, and claimed a bundle of about 20 strings of noodles was enough to sustain the weight of a person weighing 48 kg.
The photo attracted the attention of a company in Jiangxi that specialized in the import and export of cereals and oils, which introduced the factory to China Resources (Holdings) in Hong Kong, which is now a Fortune Global 500 enterprise.
Two months later, the mill had its first order, from Canada, for 100 boxes of rice noodles, weighing 2.4 tons. It took nearly two weeks to complete the order. Lacking a logo or packaging materials, the team opted to use the China Resources logo and has stuck with it ever since.
It was also the year the socialist market economy was introduced as part of the reform and opening-up policy, launched by Deng Xiaoping in 1978.
The policy, involving a series of reforms aimed at attracting foreign investment, enabled China to achieve average annual GDP growth of 9.7 percent from 1978 until 2016.
However, the days of food shortages were still indelibly imprinted in people's minds. Domestic purchasing power was limited, so a 24 kg box of rice noodles produced by Guo's factory, priced at HK$180, was beyond the means of most people in the mainland.
As a result, the company steered clear of the mainland market until 2003, when it had established its market overseas. As living standards in the mainland rose, price was no longer a deterrent.
Now, the mainland market accounts for the largest share of Jiangxi Wufeng's annual sales. Last year, the company produced 30,000 tons of rice noodles, of which 55 percent were sold in the mainland, mainly in key metropolitan areas such as Beijing and Shanghai. The remainder was sold overseas.
Despite its success, the company is determined to improve sales in the mainland.
To that end, in 2014, it started a store on Tmall.com, China's largest business-to-consumer online retail platform, run by Alibaba Group. However, online sales remain sluggish because rice noodles from Jiangxi have low public recognition, according to Guo.
"To perform better in the mainland retail market, we need to improve brand awareness and recognition," she said.
Many of the company's peers in Jiangxi face the same problem. Unlike Yunnan province and the Guangxi Zhuang autonomous region, whose reputations have long been established, the province does not have a strong reputation for high-quality rice noodles.
|<>|
A chef prepares Jiangxi Wufeng rice noodles at a restaurant in Jiangxi. [DARA WANG/CHINA DAILY]
Exports rise
The Jiangxi Rice Noodle Association, comprising nearly 100 producers, said manufacturers in the province exported 30,000 tons of Jiangxi's signature straight-cut rice noodles last year.
The figure accounted for more than 60 percent of China's exports of straight-cut rice noodles, ranking first among all provinces and regions. However, few people in China know that the rice noodles come from Jiangxi, said Yang Xiaolin, secretary of the association.
To promote brand awareness, the association applied for a collective trademark, and approval was granted in March. To raise annual sales and brand reputation, it will establish a set of production standards that will be more stringent than national regulations. Association members that adhere to the standards will be allowed to use its trademark.
Yang hopes the trademark will bolster trust among consumers. "We want them to know that rice noodles bearing our collective trademark are safe and reliable," he said. "Poor-quality suppliers will be gradually weeded out."
Guo is investing more than 2 million yuan ($290,000) to study and introduce fully automated production, and expects Jiangxi Wufeng's annual production capacity to reach 70,000 tons by 2020.
Three decades ago, she would never have imagined that the company would reach the level of success it enjoys today, or that she would be developing innovative plans for the business.
The company, which now employs 856 people earning an average 3,500 yuan a month, is raising the scale of production, and its e-commerce operations will provide about 400 new jobs in the next two years.
"I hope that, one day, Jiangxi's rice noodles will be easy to obtain and become famous, just like instant noodles," Guo said.
In the future, she hopes the first thing that comes to mind when people think of Jiangxi will not be poverty, but famously chewy rice noodles.
|<