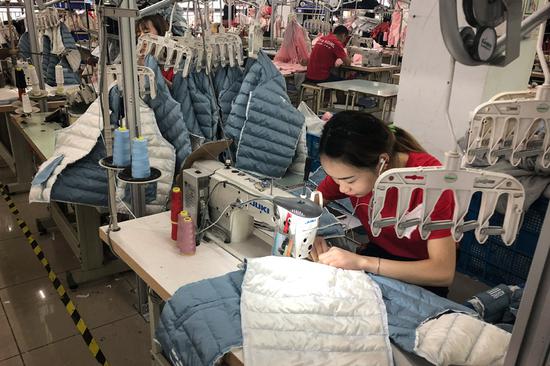 Employees work at Jintongwang Dress Co in Zhili, Zhejiang province. The company produces one of China's top brands of children's clothing. (Photo by Ma Zhenhuan/China Daily)
How long does it take to produce a quality one-piece girl's dress? In Zhili township, the global capital of children's clothing, the answer is a startling 45 seconds.
"This is made possible thanks to the computerized tailoring system and intelligent automatic production assembly line we have been developing since 2013," said Pu Xinquan, president of Jintongwang Dress Co.
At Pu's factory, in Zhili, Huzhou, Zhejiang province, rolls of fabric are first cut by computerized machinery before conveyor belts carry the semi-finished pieces to the garment makers.
"Through intelligent manufacturing, we have greatly streamlined the work, raising our monthly production capacity by 15 percent and sales income by 10 to 15 percent," Pu said.
His factory is an example of Zhili's efforts to improve the design and marketing capabilities of the children's wear sector through innovative technology.
In 2013, the Zhili government invested 20 million yuan ($3 million) to launch China's first design center dedicated to garments for children.
So far, more than 240 designers have been lured to the center. Last year, they created more than 15,000 designs for kids.
Originally a carpenter and later a dealer in textile and fabrics, Pu launched his small garment factory in 1996 and made a fortune using six sewing machines to manufacture brand-name kids' clothing for companies in Shanghai.
However, as the business grew, Pu found himself becoming discontented with making clothes for other companies.
"In the kids' wear market, brands such as Mickey Mouse and Enphants take the leading roles in the upscale market, selling their garments at prices far exceeding the original costs. All these have to be changed," he said.
Realizing that design is a core competitive factor in China's children's wear market, Pu shifted the company's branding and marketing departments to Shanghai in 2000 in a bid to better integrate his business with the latest fashion trends and design professionals.
Now, his Jintongwang brand is one of the top 10 for children's wear in the country. In the past two years, the company has employed 15 professional designers to produce seasonal designs for children in China.
Last year, the company's output was valued at 117 million yuan and it opened outlets in retailers at mega shopping centers such as the Wangfujing Department Store and the Xidan Department Store in Beijing.
Zhili is home to 13,000 manufacturers of children's clothing. Last year, the companies produced 1.3 billion garments, pushing the sales volume in Zhili to 50 billion yuan, accounting for 50 percent of the domestic market.