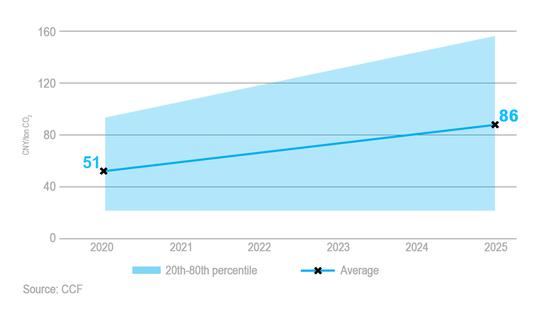 Industrialists are expecting a steady rise in carbon price from 51 Yuan in 2020 to 86 Yuan in 2025. /China Carbon Forum Graphics
Industries in China are expecting a steady rise in the price of carbon, and showing high confidence in the recently launched emission trading scheme (ETS), a study claimed.
On a national level, prices are expected to rise from 51 yuan (7.71 US dollars) in 2020 to 86 yuan (13.1 US dollars) in 2025 for each tonne of carbon dioxide emitted.
Interestingly, expectation soars in the pilot schemes, where respondents predicted price would climb up to 122 yuan (18.45 US dollars). At present rate per tonne of carbon in the pilot, region hovers in the range of 10 to 62 Yuan ( 1.51 to 9.38 US dollars)
The study titled "The 2018 China Carbon Pricing Survey" released today has been jointly prepared by China Carbon Forum (CCF), ICF and SinoCarbon. The Dutch Emissions Authority, Tsinghua University Center for China Carbon Market Research and the Norwegian Environment Agency provided their inputs to the study.
More than 300 professionals from various sectors including 68 percent of industry stakeholders participated in the survey. The responses were collated to understand perception and expectations regarding ETS in China.
Nearly half of all respondents were from companies either covered by regional carbon trading systems or are likely be included in the forthcoming national ETS.
"With the participation of industry associations, this year's survey provides a much deeper insight into industry perspectives on carbon trade than previous surveys, Huw Slater research manager, China Carbon Forum, told CGTN.
Around 72 percent of the respondents expect national ETS is likely to be fully functional by 2025. However, two-thirds of respondents from the power sector feel that the scheme will become fully operational, a bit early, by 2020. Respondents from the cement sector also echoed the same response as those from the power sector.
ETS, a significant plank of global efforts to lower emissions is already thriving in the EU and the US to reduce emissions. To keep within the agreed emission limit, the government issues carbon permits.
In case a company breaches its carbon emission limit, then it has to buy more permits. If the company emits less than the set limit, the ETS allows them to sell the excess permits, thereby incentivizing them for green initiative. China cautiously launched ETS last year only for the power sector.
At present, ETS covers nearly 1,700 power plants in the country that emit more than three billion tons of carbon dioxide. According to experts, the power sector is one of the major contributors to carbon emissions. It accounts for more than 46 percent of emissions, of which an estimated 39 percent would be likely to be covered by the ETS.
The NDRC in 2013 launched seven pilot emission trading schemes in Beijing, Tianjin, Shanghai, Chongqing, Shenzhen, Guangdong, and Hubei. The pilot ETS covers major polluting sectors including power, cement, steel and petrochemicals in these regions.
"Once fully functional, China's ETS will become world biggest carbon trading platform," speakers maintained during the release of the survey. Hannah Ryder, CEO of Development Reimagined, who helped design and introduce the UK and EU emissions trading schemes, said, "Company surveys like this are very useful for understanding the real impact new regulation is having on the ground."
Dimitri de Boer, vice chairman of China Carbon Forum, pointed out, results will bolster confidence in China's climate action. "This survey gives strong confidence that China will meet and exceed its targets."
Alok Gupta