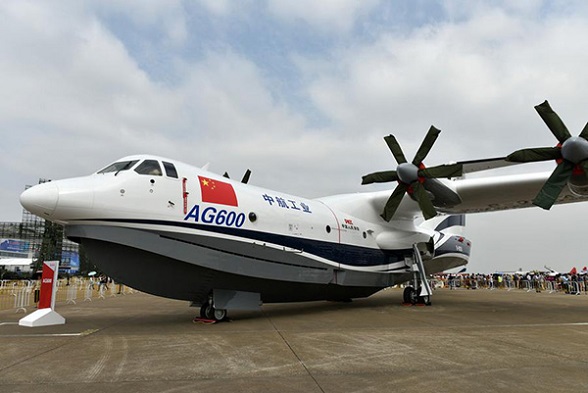 An amphibious aircraft AG600 is displayed for the 11th China International Aviation and Aerospace Exhibition in Zhuhai, South China's Guangdong province, Oct 30, 2016. The AG600 is by far the world's largest amphibian aircraft, about the size of a Boeing 737. (Photo/Xinhua)
China's first large amphibious aircraft, the AG600, completed its maiden flight in South China's Guangdong province on Sunday, making China among the few countries capable of developing a large amphibious aircraft.
The first test flight of the amphibious aircraft is another sign that China's aviation industry has entered a new development stage following the development of its first domestically-produced transport aircraft in 2013 and its first domestically-produced large passenger aircraft earlier this year.
Designed to be the world's largest amphibious aircraft, the AG600 is powered by four domestically-built turboprop engines and has a maximum take-off weight of 53.5 tons and a maximum cruising speed of 500 kilometers per hour. The 36.9-meter aircraft, which can carry 50 people during search-and-rescue missions, collect 12 tons of water in 20 seconds and transport up to 370 tons of water on a single tank of fuel, will be mainly used for maritime rescue, fighting forest fires and marine surveillance.
With an operational range of more than 4,000 kilometers and an ability to land on and take off from water, which puts China's islands in the South China Sea well within range, the deployment of the AG600 will be of great significance to China maintaining its maritime rights and interests there. Chinese people hope the advanced aircraft technology will also strengthen the country's anti-submarine capabilities.
The aircraft is an important index to measure the capabilities of the country's aviation industry. Due to its technological limitations in the past, China has experienced hardships for generations in the development of self-designed aircraft; with the flight of the AG600, its long-anticipated dream of being able to produce its own advanced aircraft is taking shape.
Due to its multiple uses and advanced manufacturing technique, the AG600 has received 17 orders and its mass production can be expected to facilitate China's efforts to enter the global aviation industry chain and raise its global status in the sector.