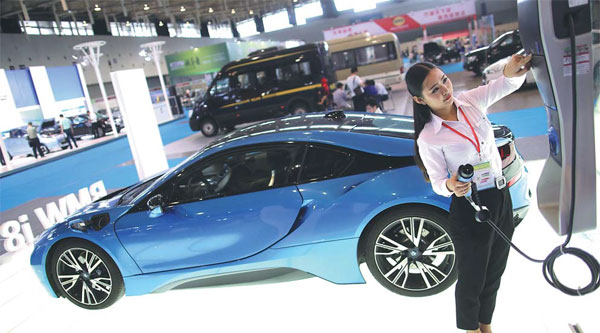 A worker at a new energy vehicle exhibition in Nanjing, Jiangsu province, shows how to charge an electric car. (Photo by Yang Bo/For China Daily)
Buyers eager to snap up vehicles ahead of possible subsidy cuts
Sales of new energy cars, especially those with a short range, are hitting record highs in China at the end of the year, with industry insiders saying a major driving force is the concern that the government may slash subsidies for the vehicles in 2018.
A total of 81,000 electric and plug-in hybrid passenger cars were sold in China in November, an 87 percent increase year-on-year, according to statistics from the China Passenger Car Association.
"Both carmakers and customers are making the most of the current policy. You can expect to see a hike later in December," said Cui Dongshu, the association's secretary-general.
The surge came as the central government is reportedly planning to slash subsidies in the new year that new energy cars have been subject to since 2010.
The Economic Observer newspaper reported that passenger cars with a range between 100 km and 150 km, which now enjoy a subsidy of 20,000 yuan ($3,026) from the government, will no longer be subsidized in 2018.
Those with a range from 150 km to 250 km will see their current subsidy of 36,000 yuan cut by more than 40 percent to 20,000 yuan, but cars with a range above 350 km will see their subsidies rise from 44,000 yuan to 50,000 yuan.
China is also planning to tell local governments to stop offering subsidies, which stand at 50 percent of government subsidies this year, according to Bloomberg.
The scheme, if implemented, will run counter to China's previous plan that it will keep the subsidies in 2018 at the same level in 2017, cut the subsidies from 2019 by 40 percent from 2016 level and stop the subsidies by the end of 2020.
Dong Yang, executive vice-president of the China Association of Automobile Manufacturers, wrote in an article that the cutback was probably because the sector grew faster than expected and thus the incurred subsidies were more than the amount set aside in the budget.
China is so far home to at least 1.5 million new energy cars, according to the association.
Bloomberg reported that the Chinese government has spent 59 billion yuan through 2015 on new energy car subsidies, and it may need to set aside 83 billion yuan more for 2016 and the current year.
Dong said the government should keep its word. "If the subsidies cannot be issued as planned, surely carmakers' pace of development would be disrupted and their sales affected."
China's leading new energy carmaker BYD Co said cutting subsidies is a necessary step before China's policy that carmakers produce a certain number of new energy cars takes effect starting from 2019.
"It may trigger a reshuffle of the industry but with the new policy the segment of new energy passenger cars will see greater growth potential and their technological levels will rise as well."
At a forum last week in Beijing, Xi Zhongmin, deputy general manager at GAC New Energy Co, said, "New energy cars must join real competition (if they want to survive), so carmakers should seize opportunities to develop competitive products as the government is forcing the sector to go upward."