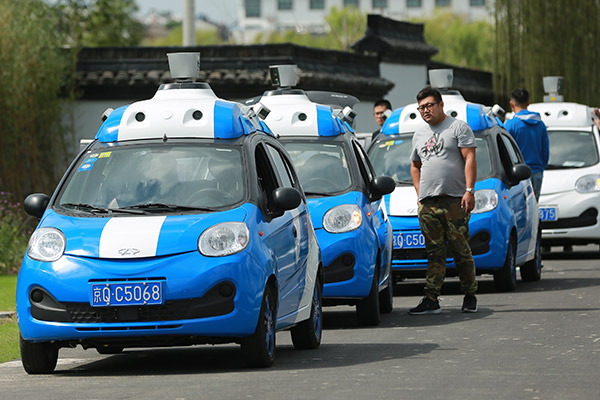 Baidu conducts test runs with unmanned vehicles in Wuzhen, Zhejiang province. (Photo provided to China Daily)
China's first guideline on road tests of autonomous motor vehicles was released on Monday by local authorities in Beijing, signaling the country's determination to accelerate the development of the technology.
The guideline, compiled by the city's transport commission, public security bureau and economy and information technology commission, applies to independent entities registered in China.
They can apply to test at most five vehicles at a time, but before conducting road tests they must first complete tests in designated closed zones, according to the guideline.
It also requires that a human driver sit in the driver's seat to be able to immediately take over the car in case of emergencies and other special situations.
The authorities said they will soon release the list of road sections eligible for such tests.
John Zeng, managing director of the consulting firm LMC Automotive Shanghai, said the guideline is very helpful to companies in the sector, many of which are testing autonomous driving in the United States.
"It's a practical move that will greatly promote the sector. It will be even more helpful if there is a national-level guideline," said Zeng.
The guideline came four days after the Ministry of Industry and Information Technology unveiled a three-year plan to boost the application of artificial intelligence in automotive and other sectors.
Under the plan, by 2020 the nation will build a reliable and safe platform for smart and internet-connected vehicles that can support highly autonomous driving technologies.
China expects 80 percent of new vehicles sold in 2025 to feature some autonomous driving functions, according to an automotive development plan released in April.
Many Chinese companies, including Baidu Inc, are already working hard on the research and development of autonomous driving technology.
Baidu also plans to introduce vehicles that will allow drivers to take their eyes off the road in 2019 in cooperation with Anhui Jianghuai Automobile Co and Beijing Automotive Group Co.
PwC's consultancy subsidiary Strategy& estimated that by 2030, China will have at least 33 million highly or fully autonomous driving vehicles, more than those in the US or the EU.