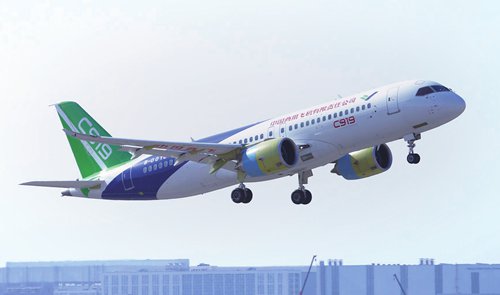 C919 passenger jet takes off for a test flight in Shanghai on Sunday. (Photo/Courtesy of COMAC)
A second prototype of China's domestically developed C919 passenger jet finished a test flight in Shanghai on Sunday, another step forward in the country's ambitions to muscle in to the global jet market.
It started its two-hour flight at 10:34 a.m. The flight initially examined the takeoff and landing performance of the aircraft and the functioning of the major systems and equipment. Retractable flaps, landing gear, navigation and communication systems were all examined, according to a note sent to the Global Times.
Its manufacturer, the Commercial Aircraft Corp of China (COMAC) said it will have a total of six prototypes eventually conducting test flights, and more than 1,000 tests will be carried out.
COMAC will have test flights leaving from Dongying in East China's Shandong Province and Yanliang in Northwest China's Shaanxi Province.
The narrow-body aircraft, which will compete with Boeing's 737 and the Airbus A320, is a symbol of China's ambition to penetrate the global passenger jet market, estimated to be worth $2 trillion over the next 20 years.
The C919 made its maiden flight on May 5 this year. It completed its first long-distance flight on November 10, flying for 2 hours and 23 minutes from Shanghai to Xi'an, Northwest China's Shaanxi Province, covering more than 1,300 kilometers.
COMAC aims to obtain certification for the plane from Chinese regulators as well as Europe's aviation safety regulator, which agreed in April to start the certification process.
The plane has dozens of domestic and foreign customers that have placed orders and commitments for 785 jets, COMAC has said.