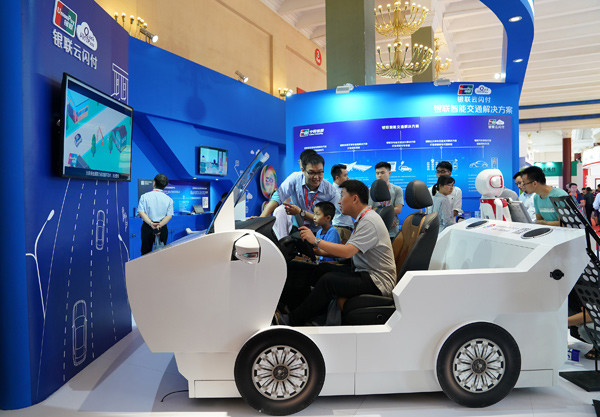 Visitors experience smart transportation services at a recent fintech exhibition in Beijing. (Photo/Xinhua)
Financial technology or fintech, the new kid on the technology block, is spreading from large financial institutions to small and medium-sized banks in China.
Fintech, which is broadly defined as any technological innovation in financial services, utilizes technology that is widely available as payment apps to more complex software applications such as artificial intelligence and big data. Nearly 50 percent of the small and medium-sized banks have formed specific development plans for fintech, while about 96 percent have set up online banking systems and 54 percent have utilized big data analysis to control risks, according to findings from the Internet Finance Association of Small and Medium-sized Banks (IFAB), an alliance set up recently in Shenzhen, Guangdong province.
The report also said the figures indicate small and medium-sized banks have attached great importance to digitalization, but the performance of their e-platforms has not been that satisfactory.
Challenges these banks face also include less access to clients and data, increasing demand of improving user experience and loss of young clients, according to the report.
Huang Runzhong, secretary general of the China Banking Association, said that a small and medium-sized bank cannot deal with these challenges by itself and hence needs to join hands with others to seize the opportunity.
The overall asset size of all small and medium-sized banks in China is about 65 trillion yuan ($9.8 trillion), accounting for 40 percent of the industry total. They are a significant part of the nation's banking system and a major force to service small and micro businesses.
But the digitalization of banking system requires huge economic investment. For example, Ping An Insurance Group Co has invested more than 50 billion yuan to develop big data, artificial intelligence, blockchain and other fintech technologies, while hiring about 22,000 talents in this field.
Ping An Chairman Ma Mingzhe added that these banks are also confronted with the new macro financing environment, such as slowing growth, shrinking interest margins, increasing costs and risks.
Sun Jianyi, head of IFAB, pledged to facilitate the development of the sector by in-depth fintech cooperation, including online exchange of interbank assets, blockchain and cloud computing.
He also said it aims to become the largest fintech association of small and medium-sized banks in China. More than 230 banks have joined with the asset size of 35 trillion yuan so far.