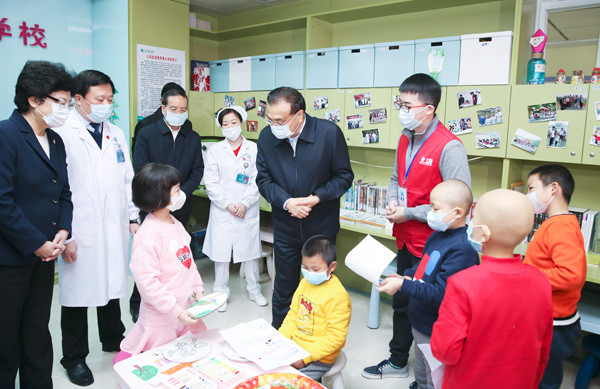 Premier Li Keqiang visits young leukemia patients and volunteers in the Wuhan Union Hospital on Tuesday. His two-day visit to Hubei province included discussions of free trade zones and the need for higher-quality development. (Photo/Xinhua)
Premier advocates a people-focused approach during Wuhan inspection
Premier Li Keqiang called on China's 11 pilot free trade zones to improve market management, including the negative list for market access and internet-related services, to build a better business environment and stimulate market vitality.
Li made the comment during a two-day inspection in Hubei province that ended on Tuesday.
On Monday, he presided over a meeting in Wuhan, Hubei's capital, focusing on pilot free trade zones. Li called on the zones to build a modern economic system and promote higher-quality development, as stipulated by the 19th National Congress of the Communist Party of China, which concluded in October.
The free trade zones have made a lot of progress promoting new growth momentum in the past few years by adhering to improving government services and streamlining administration, the premier said at the meeting.
The zones, including those in Shanghai, Tianjin and Hubei province, should be encouraged to accelerate reforms such as separating certificates from licenses, doing random inspections, and making timely disclosure of inspection results, he said.
The Wuhan section of the China (Hubei) Pilot Free Trade Zone has developed an application to provide online services such as business registration, tax payment and social security. Li said local officials must think from the public's perspective, better integrate the internet with administrative procedures and make concerted efforts to build a more inviting business environment.
This week's trip was Li's third visit to Wuhan within a year and a half and also his first inspection tour after the 19th CPC National Congress.
Pilot free trade zones have been a vital part of the premier's agenda and he had visited most of the 11 zones. In early July, Li visited the Yangling section of the China (Shaanxi) Pilot Free Trade Zone and praised Yangling's practice of approving registration applications online.
Li also lauded the big data and the internet-based public services.
Wuhan has developed 71 application systems to build a smarter structure in fields such as urban management, medical care and education. Its smart traffic system showed real-time forecasts of congestion and parking. Li said Wuhan has a complicated traffic system in its three towns and big data should be further utilized to ease congestion, which can make the city smarter and better serve residents.
On Monday, Li also visited Transn.com, an internet service that has helped more than a million translators across the globe find work translating more than 60 languages. He encouraged its staff to further use big data to promote new business models.
The premier visited leukemia patients at Wuhan Union Hospital on Tuesday.