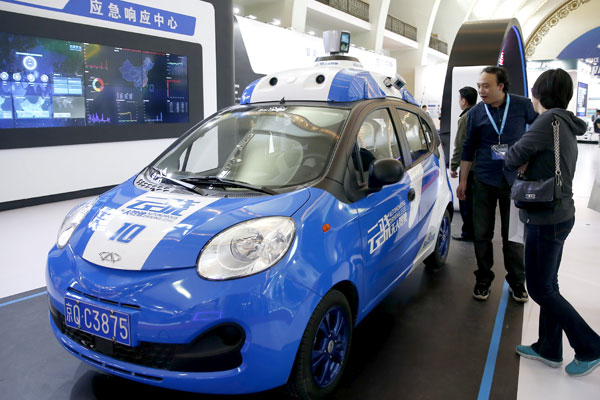 Visitors take a look at a Baidu self-driving vehicle during a tech expo in Beijing. (Photo by Sheng Jiapeng/China News Service)
Self-driving vehicles still have a long way to go before they can reach the mass production stage or be used commercially on a large-scale due to safety concerns, although such cars have become the development trend, experts said.
Experts believe that self-driving vehicles will be ready for commercial use by around 2020. Chinese internet search giant Baidu Inc is expected to achieve the goal ahead of schedule.
Baidu, which is pushing artificial intelligence to fuel growth, with a special emphasis on self-driving vehicles, is confident that such vehicles can hit the roads next year, according to its Chairman and CEO Robin Li.
Baidu aims to put autonomous mini-buses that can operate in designated areas into mass production and trial operation by the end of July 2018, in cooperation with Chinese bus manufacturer Xiamen King Long United Automotive Industry Co.
It also plans to launch self-driving car models in 2019 in cooperation with manufacturers JAC Motors and BAIC, as well as the Chery Automobile Co, Li said, noting that these vehicles will be able to reduce traffic jams endemic to Chinese cities.
"Baidu's efforts are significant to the automotive industry, but more tests are needed before such vehicles can reach mass production and large-scale commercial application given safety concerns," said Zeng Zhiling, managing director of LMC Automotive Consulting Co.
Zeng warned "self-driving vehicles are vulnerable to cyber attacks." He explained that since these vehicles are highly intelligent and networked, hackers might invade the system, thereby posing dangers to road safety.
Self-driving has become a trend in the automotive industry, but the safety issue comes as the top priority, said Xu Yanhua, deputy secretary-general of the China Association of Automobile Manufacturers, noting that U.S. tech heavyweight Google Inc is still in the testing stage of its own self-driving vehicles.
Baidu has invested heavily in the research and development of autonomous driving technology. In April, it launched a new project Apollo, an open platform on which its technologies can be shared with developers and automakers.
The platform signals a move to compete with Waymo, a self-driving car development company spun out of Google's parent company, Alphabet Inc.
The company has been operating its autonomous minivans on public roads in Arizona, the United States, without a safety driver since mid-October. Several accidents involving Waymo self-driving vehicles have been reported over the years.