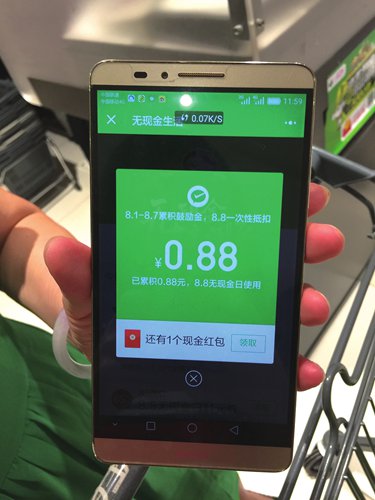 A reward after using WeChat Pay to pay in a supermarket. (Photo: Zhang Hongpei/GT)
With QR code scanning becoming a more popular payment option, Alipay and WeChat Pay, the two major third-party mobile payment tools in China, are now launching promotions this month to bring more merchants and customers into the cashless world.
During Alipay's Cashless City Week from August 1-8, its users can get awards in their Alipay accounts by paying in physical stores.
More than 10 million physical merchants are reported to have joined the initiative.
Alipay's major rival, Tencent's WeChat Pay, also rolled out its "Cashless Day" promotion on Monday, and it will last the whole month.
WeChat Pay allows its users to share their awards with friends on the app, helping merchants get more potential customers.
As the two e-wallet giants in China dominate the domestic mobile payment market, which totaled 18.8 trillion yuan ($2.8 trillion) worth of transactions in the first quarter of 2017, up 46.8 percent from the fourth quarter of last year, according Beijing-based marketing consultancy Analysys International.
As of the end of 2016, the market shares of Alipay and WeChat Pay were 54 percent and 37 percent respectively, Analysys International showed.
A 30-year-old Beijing resident surnamed Ma told the Global Times on Tuesday that she has become used to mobile payments by using her smartphone.
"I usually don't take any cash with me. All I worry about is losing my phone," she said.
A report jointly released by Tencent Holdings and other partners on Monday showed that 84 percent of Chinese are comfortable going out with just their mobile phones and no cash.
According to the observation of Global Times on Tuesday in the Japanese AEON supermarket located in Beijing's Chaoyang District, 80 percent of e-wallet users opened their WeChat app on their smartphones when paying at the check-out counter. Most older consumers still prefer to pay by cash or card.
"I have been using the German version of WeChat for five weeks on the recommendation of friends," Birgit Jahn of Germany told the Global Times after she bought a garment with her phone.
"In Germany, it's not so easy to buy something [with the phone], you usually need a bank card," she said.
Analysys International analyst Wang Pengbo told the Global Times on Tuesday that WeChat Pay is better at user stickiness with its social networking advantage while Alipay focuses more on linking customers with the business side such as insurers by constructing a financial system with professional risk control.