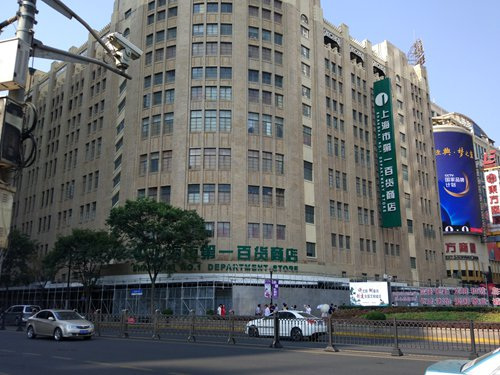 The building of Shanghai No.1 Department Store closed for 'face-lift' (Photo: Yu Xi/GT)
Following the closure of Shanghai No.1 Department Store in June for refurbishment, another State-owned department store in Shanghai, the Orient Shopping Center, is to close in mid-August for the same reason. The renovation plans aim to modernize the old stores to attract more consumers of different ages. Experts say that the modernization of retail would also need to involve the combination of online and offline businesses to better optimize consumer experiences.
An increasing number of State-owned department stores have been temporarily closing across Shanghai as part of a retail renovation strategy to modernize and boost the consumer experience.
About one month ago, the famous 81-year-old State-owned Shanghai No.1 Department Store closed for redevelopment.
Its neighbor, the 20-year-old Orient Shopping Center located on East Nanjing Road near Shanghai's landmark People's Square, is another leading State-owned department store which is scheduled to close on August 14 for a major refurbishment.
It is the latest move that traditional department stores are seeking in order to adapt to the rapid growth of online retailers in Shanghai.
Modern retailers are facing the problem of brand homogenization, but traditional department stores face different problems such as rising labor and rent costs as well as deficiency to appeal to the younger generation who are generally attracted to more innovated and contemporary modes of retail, experts noted.
For instance, the Pacific Department Store, which is managed under the Taiwan-headquartered Far Eastern Group, closed its prime Huaihai Road store in Shanghai in 2016 due to fierce competition posed by online retailers and the emergence of modern shopping malls, according to media reports.
Under these challenging situations, a batch of Shanghai's earliest, traditional department stores on Nanjing and Huaihai roads started closing their doors from 2017 for major renovations and to adjust their business operations to meet changing demand from consumers, according to a post on the official website of the Shanghai government's press center in November 2016.
Shanghai's online retail sales increased 17.9 percent year-on-year in the first half of 2017, accounting for 13.7 percent of the total retail consumption, according to data Shanghai Bureau of Statistics released on July 18. The online retail sales' proportion of total retail consumption in Shanghai increased by 2.3 percentage points year-on-year in the first half of 2017.
Lure youngsters, retain seniors
The two first-mentioned State-owned stores will be merged into a new business center with skywalks and will re-open at the end of 2017 after renovation is completed to better meet the needs of Internet-era consumers, according to Bailian Group, owner of the two stores.
Shanghai-based Bailian Group is the largest State-owned retail group in the country, and it has 4,700 outlets scattered across more than 200 cities.
Throughout the past, middle-aged and senior consumers accounted for a major proportion of the traditional department stores' consumers.
After renovation, "we hope to build a new business center which could attract younger consumers," Eric Zhao, board secretary and senior director of the strategic planning and intelligence center of Bailian Group, told the Global Times on Thursday.
For example, Bailian plans to introduce the concept of "erciyuan" (two dimensional space) - a term served as a stand-in for 2D animation related to anime, comics, games and novels - to the new business center to better meet young consumers' needs.
A 29-year-old local Shanghai resident surnamed Xie agreed that many State-owned department stores have a long history with outmoded decorations. "It would be beneficial for them to introduce more fashionable and newer brands," Xie told the Global Times on Thursday.
Wang Danqing, a partner with Beijing-based ACG Management Consultancy, said that it is crucial for retailers to win over young consumers because they will be the major consumer group in the near future.