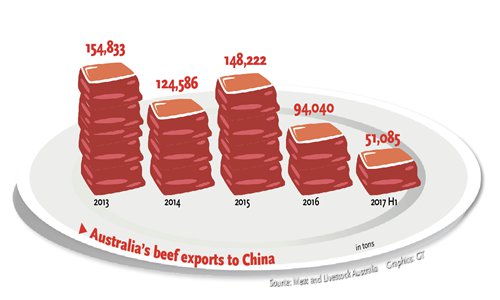 Australia's beef exports to China
Tighter regulations needed as China imports more meat
As China imports increasing volumes of beef, stricter quality regulations are needed, and a recent ban on some Australian beef processors should not be "over-interpreted," industry representatives told the Global Times on Thursday.
As imported beef takes up a rising share of China's meat industry, some processors with few or no qualifications are rushing into the market and causing some chaos, Gao Guan, vice secretary-general of the China Meat Association, told the Global Times. "For instance, there are ways to smuggle beef into China, which should be further cracked down on. So it's not unusual that the authorities keep a close eye on imported beef," he said.
China banned beef imports from six Australian facilities due to non-compliant labels, the Australian Broadcasting Corp (ABC) reported on Wednesday. Australian Trade Minister Steven Ciobo told the ABC that the government was made aware of the ban and is working closely and constructively with the Chinese authorities to resolve the issue, according to the report.
Australia's beef exports to China fell 37 percent year-on-year in 2016 to 94,040 tons, according to the data compiled by industry research firm Meat and Livestock Australia (MLA). However, those exports rose 7 percent year-on-year from January to June this year, a gain of 51,085 tons, according to the website of the MLA.
Meanwhile, China's beef output grew 2.4 percent year-on-year in 2016 to 7.17 million tons, according to the National Bureau of Statistics. But that amount failed to keep up with consumption, which rose about 4 percent year-on-year to 7.74 million tons, according to a market research report published by industry consulting site chyxx.com.
China's growing demand for red meat has generated business opportunities for countries including Australia, Uruguay, New Zealand and Brazil.
China has been tightening rules covering beef imports, and labeling compliance was likely to become an issue, Ma Wenfeng, a senior analyst at Beijing Orient Agribusiness Consultant, told the Global Times on Thursday.
Also, a recent case of rotten beef imports from Brazil may have raised concern over the quality of imported products, Gao said. "As more players come into the sector, more standardized rules are expected to be released. So there's no need to make too much of the ban on some Australian beef facilities," he added.
About 28 tons of rotten frozen beef worth $120,000 imported from Brazil were destroyed by local authorities in Nanjing, East China's Jiangsu Province, cnr.cn reported on Tuesday.
According to Ciobo, beef represents a very significant part of Australia's export trade with China with potentially tens of millions and possibly hundreds of millions of dollars in trade affected due to this issue, the Sydney Morning Herald reported.
Sources in the meat processing sector have claimed that China's ban is actually a form of retaliation for Australian Foreign Minister Julie Bishop's comments last week over freedom of navigation in the South China Sea, according to the Australian publication Weekly Times.
"International trade is always related to political relations. Why do business with someone who might jeopardize our interests?" Ma said, noting that if the claim of Australian meat processors is true, the motivation behind this ban is also reasonable.
Six affected export establishments were reported as suspended by the General Administration of Quality Supervision, Inspection and Quarantine of China, according to the ABC.
The Chinese authority had not responded to a request for comment on the ban sent by the Global Times as of press time.
As part of the U.S.-China 100-Day Action plan, U.S. beef officially came back to the Chinese market on June 30 after a 13-year hiatus. Australian exporters are also now confronted with a new competitor in the market as China opens up to US beef imports, according to the ABC.
"Opening the door to U.S. beef will definitely reshape the imported beef market," Ma said. "However, it is too early to say who will assume the dominant position in the Chinese market."