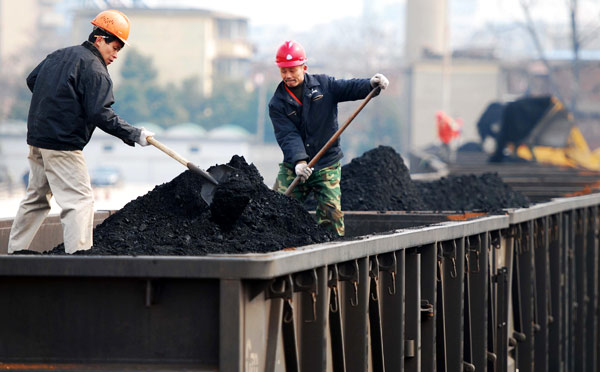 Workers load thermal coal at a storage base in Jiujiang, Jiangxi province. (Photo/Xinhua)
Coal prices are predicted to fall slightly in the second half of this year, thanks to government efforts to ensure adequate supplies, industry insiders said.
The Bohai-Rim Steam-Coal Price Index or BSPI, which tracks domestic thermal coal spot prices at six major ports in northern China, hit 580 yuan ($85.26) per ton on Tuesday, up from 577 yuan a week ago.
The high coal prices are the result of a successful capacity reduction as part of the country's supply-side structural reform.
In addition, the surge in steel production last year also drove up coal prices, said Mi Pengqi, an analyst at JLC Network Technology Co.
The latest coal price uptrend may end because of the fall in daily coal consumption of thermal power plants.
Also, consumers also intend to scale down their purchases, according to a report in China Securities Journal that quoted market insiders.
"The central government has eased the policy on (coal) capacity reduction due to the troubled situation related to coal and electricity," said Zhang Min, an analyst from Sublime China Information Group.
He was referring to the continuous rise in thermal coal prices, which in turn were inflating costs, and squeezing profits, of the already troubled thermal power plants since April last year.
About 65 percent of electricity in China is generated by thermal power plants.
According to National Bureau of Statistics, China's coal output rose 12 percent to 300 million tons in May, almost 10 percent in April and nearly 2 percent in March.
That is a reversal of the trend last year when the country's coal output fell 7.9 percent, the biggest annual drop since 1981, according to BP Statistical Review of World Energy 2017.
China eliminated more than 65 million tons of steel production capacity and over 290 million tons of coal capacity last year, beating annual government targets.
Environment and safety inspections led to the closure of many small coal mines. The new regulation, lowering work days in a year to 276, also reduced the production of large coal mining companies, said Mi.
However, the old rule allowing 330 work days in a year has been restored by many provinces like Shanxi and Shaanxi since April, leading to a rise in output.
Also, the National Development and Reform Commission, the country's top economic planner, said in late April it would allow coal output to increase to make the fuel cheaper, in order to help struggling power plants.
If Chinese coal prices stay high, however, importers in other countries may look for alternative suppliers as oversupply marks the current global coal market, Mi said. "That will also help lower coal prices."
Since the end of last month, the daily coal consumption of thermal power plants has declined a bit. The year-on-year growth rate has also slowed significantly, the China Securities Journal reported.
Any slight decline in coal prices would squeeze profits of Chinese coal companies but won't cause huge losses, Zhang said.
Although coal prices were volatile in the first half of the year, they were still high, ensuring profits of most coal companies stayed at high levels.