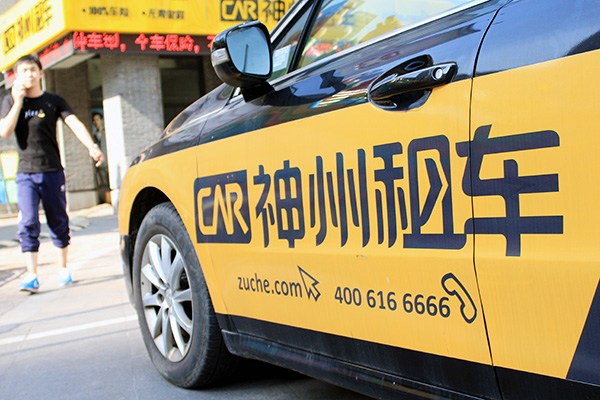 An outlet of Car Inc, China's biggest rental company, in Changzhou, Jiangsu province. (Photo/China Daily)
China's high-end ride hailing company UCAR Technology Inc has led a 2.2 billion yuan investment in the fledging electric carmaker Xpeng Motors, the two announced on Monday.
The investment is the first UCAR has made since the car service provider set up a private equity fund of 10 billion yuan to invest in "synergy and forward-looking" projects.
Xpeng Motors plans to mass produce its first model, an all-electric SUV, by the year end. The three-year-old company released the prototype in last September.
Touting an internet gene, the Guangzhou-headquartered carmaker has executives from a band of internet players such as Tencent, Alibaba, Huawei and UC Web, according to the company.
"UCAR will purchase Xpeng cars in large scale, and support it in data mining, joint marketing and building sales and after-sales network," chairman and CEO Lu Zhengyao said.
The move comes as Chinese internet companies eye car business with a fresh interest, with ambitious players ranging from video streaming platform LeEco to search engine giant Baidu.
The investment will give UCAR a foothold in the upper industrial chain, and Xpeng Motors a head start in the competition, analysts said.
Originated as an affiliate of China's largest car-rental company Car Inc, UCAR is different from its asset-light rival Didi by owning cars and employing full-time drivers, targeting the country's luxury end of ride hailing businesses.
The company has been looking to extend in the auto industry chain with a second-hand car trading platform and a car financing platform. UCAR listed in the New Third Board, the national over-the-counter equity market for small and medium-sized enterprises, last year.
The new fund is set up to invest in after-sales auto services, new energy cars, and smart driving technologies including internet of cars, advanced car operation system and autonomous driving, Li Hui, head of the fund, said.