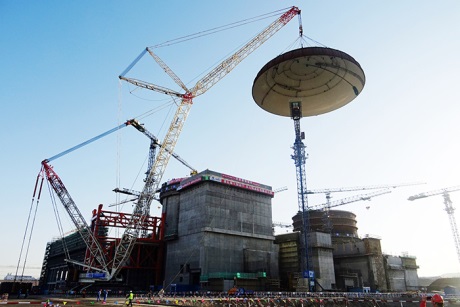 With the installation of the dome on the containment building, all major civil engineering works have been completed at Unit 5 of the Hongyanhe nuclear power plant developed by China's State Power Investment Corp, located Northeast China's Liaoning province. (File Photo)
Chinese companies are craving access to the colossal untapped potential of the nuclear power industry in Belt and Road countries, which could yield a market of up to 4 trillion RMB ($580 billion), said the chairman of one of the country's largest nuclear power developers.
"About 72 countries have been or are planning to develop nuclear power, among which 41 are along the Belt and Road route, and most of them are still in the earliest stages of nuclear power development. We estimate that if their nuclear energy were raised to reach development levels comparable to those of the U.S. or Japan, it would spawn a market worth 4 trillion RMB, " remarked Wang Shoujun, chairman of China National Nuclear Corp (CNNC).
The Belt and Road Initiative, proposed by Chinese President Xi Jinping in 2013, aims to build a trade and infrastructure network connecting Asia with Europe and Africa along ancient trade routes, in an unprecedented effort that will unite up to 65 countries.
China a powerful nuclear tech player
As domestic demand for electricity soars in China, and the country accelerates its shift to renewable energy, nuclear power will be one of the highest-priority projects. China currently operates 36 nuclear reactors, and is in the process of building 20 new ones, according to an official with the Ministry of Environmental Protection. By the end of 2020, China aims to have 58 million kilowatts of nuclear power capacity in operation and more than 30 million kilowatts under construction, ranking second in the world for number of installed units.
When it comes to homegrown technologies, China is gathering steam to occupy a position of leadership in the world. The Hualong One pressurized water reactor, manufactured by China First Heavy Machinery, completed its hydraulic pressure tests on April 8. This milestone shows that China has mastered the independent design and manufacture of third-generation nuclear power facilities.
On Jan. 5, 2017, State Power Investment Corp (SPIC), one of China's five largest power generators, released NuPAC platform, a digital instrumentation and control system for nuclear power plants, complete with independent intellectual property rights. The platform has obtained approval from the U.S. Nuclear Regulatory Commission, giving it access to American and European markets.
Sailing abroad
With the third-generation Hualong One reactor as a star export, Chinese nuclear technologies have established a presence in the U.K., Romania, Pakistan and beyond.
In March, China General Nuclear Power Corporation (CGN) inked a protocol with Kenya on nuclear power training based on the Hualong One reactor, coming one step closer to actually exporting the Hualong One design to Kenya, and testing the waters on other exports of technology and equipment overseas.
Citing indigenous technologies like Hualong One, the president of CGN Group announced that homegrown technologies "lay the foundation for China's nuclear expansion overseas."
According to CNNC Chairman Wang Shoujun, CNNC has successfully exported six nuclear power units and eight reactors to at least seven countries, and has established links with more than 40 countries for further cooperation spanning the full nuclear industrial chain.
Nuclear, radiation safety measures "reliable"
According to sources from the National Nuclear Safety Administration (NNSA), from August to September 2016, the International Atomic Energy Agency conducted a comprehensive nuclear and radiation safety evaluation. Their assessment found that nuclear and radiation safety in China is in line with international standards, and regulatory work is effective and reliable.
An unidentified NNSA official noted that, in the past 30 years, the Chinese nuclear industry has maintained a record of safe operations, with no incidents exceeding Level 2 or higher on the 7-level International Nuclear and Radiological Event Scale. No radiation was deemed detrimental to the environment.
However, the official also stressed that a shortage of storage space for used fuel and the disposal of radioactive waste is a major issue affecting the development of China's nuclear power.
In March, China's State Council approved a plan for nuclear power safety and radioactive pollution control. According to the plan, China will build five sites for the disposal of solid waste with a low or intermediate level of radioactivity. Underground laboratories will be called upon to dispose of highly radioactive waste.
By 2025, China plans to have fully modernized its supervisory system for nuclear safety and radioactive pollution control. The safety of the country's nuclear facilities will be markedly enhanced by 2020, with a lower rate of occurrence of radiation accidents and better emergency response and safety supervision, according to the plan.