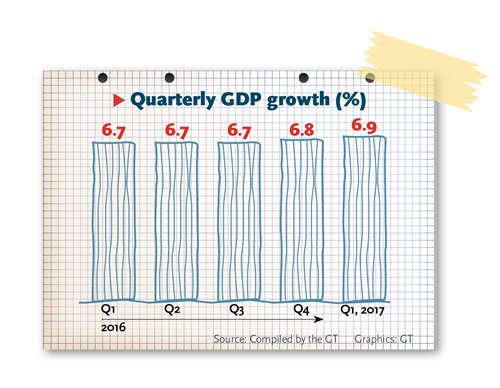 (Graphics/GT)
Experts have forecast that China's GDP for the current year can grow more than the 6.5-percent growth target, as the world's second-largest economy expanded 6.9 percent year-on-year in the first quarter.
GDP growth in the first quarter was 0.2 percentage point more than in the year-earlier period, and it exceeded market expectations of 6.8 percent.
Rapid industrial growth, robust consumption and a recovery in trade bolstered the economy in the first quarter of 2017, Mao Shengyong, spokesman of the National Bureau of Statistics (NBS), said at a press conference held in Beijing on Monday.
Profits of major industrial enterprises jumped a combined 31.5 percent year-on-year in the first two months of 2017. The rising producer price index (PPI) since the second half of last year did much to support corporate profits, Liu Xuezhi, a senior analyst at the Bank of Communications, told the Global Times Monday.
In March, China's PPI, which measures costs of goods at the factory gate, increased 7.6 percent from a year earlier, according to the NBS.
As China continued its supply-side structural reforms, value-added industrial production in March grew 7.6 percent, the highest increase since the end of 2014.
Liu questioned whether such industrial growth could be maintained in the coming months, as companies' operating costs are still fairly high.
The services sector and consumption expenditures were still the key drivers of China's economic growth, contributing 56.5 percent by sector and 77.2 percent by type of economic drivers, respectively, to first-quarter GDP, according to the NBS data.
"Generally speaking, the national economy in the first quarter maintained momentum for steady and sound development," marking a good start to the year, Mao said.
The establishment of the Xiongan New Area in North China's Hebei Province will play a big role in promoting economic growth, he noted.
Mao also warned about "complex" international conditions. Liu agreed and pointed out that Chinese exports will be hurt by global uncertainties such as simmering trade tensions.
Still, analysts and economists from Bank of Communications forecast that full-year GDP growth will exceed 6.5 percent, thanks to the first quarter's strong performance, according to Liu.
In March, Premier Li Keqiang set the growth target for China's GDP in 2017 to "around 6.5 percent or higher, if possible."
The upturn in momentum could persist in the second quarter, but the speed of growth is expected to slow in the second half of the year, Liu Dongliang, a senior analyst at China Merchants Bank, said in a research note sent to the Global Times Monday.
He forecast that investment in real estate sector would continue increasing in the current quarter, becoming a driver of second-quarter GDP growth.
However, the NBS spokesman said that economic data after April will likely reflect recent measures to cool the property market.
Investment in real estate development rose 9.1 percent year-on-year in the first quarter, the highest level in two years, despite local government moves to tighten restrictions on housing purchases.
In the first three months, construction starts by floor area rose 11.6 percent year-on-year, triggering analyst concerns about more pressure on inventory reduction.
The NBS also released other economic data such as retail sales and fixed-assets investment during Monday's press conference.
Retail sales rose 10 percent year-on-year in the first quarter. Investment in fixed assets grew 9.2 percent from the same period last year.