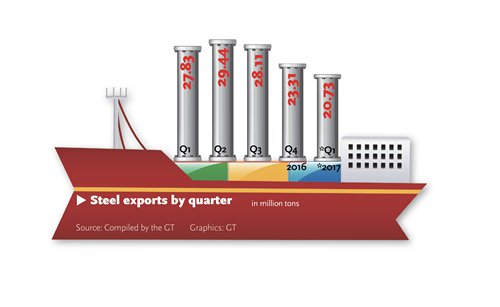 (Graphics/GT)
China's steel industry is facing a tough year, although the target of slashing overcapacity was accomplished in 2016, officials said on Thursday during the 8th Steel Development Summit in Beijing.
The country cut a total of 65 million tons of steel capacity in 2016 but the fundamental problems remain, Xia Nong, an inspector from the industry department of the National Development and Reform Commission, the top economic planner, told the audience at the summit. "We should continue to work on tackling substandard steel products as well as zombie firms in 2017. In particular, illegal production should be banned before June 30," he said.
Merger and acquisition (M&A) deals that will enhance competitiveness are encouraged, the official noted.
Two giant producers - Baosteel Group and Wuhan Iron and Steel (Group) Corp - announced plans to merge into China Baowu Steel Group Corp on December 1, 2016, becoming the world's No.2 steelmaker by output.
"More [M&A deals] are expected this year," Xia said, noting that this year is crucial to upgrade technologies and push forward restructuring.
The member steelmakers surveyed by China Metallurgical Planning, an advisory body that advises more than 400 domestic companies, shifted from losses to profits in 2016, although they recorded low profit margins, according to a report the association sent to the Global Times on Thursday. Total revenues stood at 2.8 trillion yuan ($406.72 billion) in 2016, with total profits of 30.38 billion yuan, the report showed. The average profit margin was 1.08 percent. From January to February in 2017, the average profit margin improved further to 2.41 percent.
"I was here last year … and the sentiment was more pessimistic," K. Mike Fujisawa, the principal of overseas business at the JFE Steel Corp, told the Global Times on Thursday. He noted that if China solves the overcapacity issue quicker, it will be painful as it involves structural problems.
However, whether capacity cuts should be market-driven or ordered by the government has been the subject of discussion in recent months, Luo Tiejun, an inspector at the raw material department at the Ministry of Industry and Information Technology, said during the summit. "It should be decided by the market demand, but the authorities have to weigh in when it comes to controlling capacity, not output," he said.
The industry's capacity utilization rate should exceed 80 percent, according to international standards, which is "reasonable", but the figure in China in 2015 was just 71 percent, Wang Guoqing, director of Beijing-based Lange Steel Information Center, told the Global Times on Thursday.
"The challenging part is some factories that shut down resumed production because of the increasing prices of steel products," she said, noting that there has also been a continuing crackdown on illegal production.
Since the beginning of 2017, prices of major steel products, including deformed steel bars and steel plate, have seen continuous growth, which drove up output.
Also, China's growing net steel exports have created environmental pollution and excessive consumption of resources, Yin Ruiyu, an academician of the Chinese Academy of Engineering, said during the summit. "It's too much, and we should take it seriously," he noted.
In 2016, China faced 49 trade complaints involving the steel industry from 21 countries and regions, involving in total $7.9 billion. That amount was up 63.1 percent on a year-on-year basis, the report noted.
"The growing trade disputes have been hindering steel exports, and export volumes since the beginning of this year have slumped," Wang said.